Anyone caught trying to flee Melbourne's lockdown will face $4957 fine
A new offence carrying a fine of $4957 will be introduced in Victoria to deter people from leaving metro Melbourne and travelling into regional parts of the state.
Failing to comply with a requirement to remain in a restricted area will be a new offence set to come into force in Victoria overnight.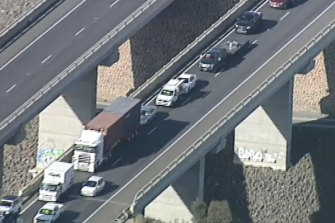 Traffic was banked up in Bacchus Marsh on Tuesday.Credit:Nine News
"That is quite a significant fine and clearly aimed to deter people from the Melbourne metro area [travelling to regional areas]," Deputy Commissioner Rick Nugent said on Wednesday.
"We don't want the virus to spread again in the rural areas."
From 11.59pm on Wednesday, regional Victoria will move to step three in the government's road map.
Mr Nugent said if it multiple people are caught leaving metro Melbourne together they would all be fined the full amount and told to go home.
Police will be increasing their patrols of checkpoints, particularly during the school holidays, to catch anyone from metro Melbourne trying to holiday in the regions.
There will also be increased patrols of caravan parks and boat ramps and police will be checking all cars towing caravans or boats.
"We absolutely have a role in this to ensure those deliberately, blatantly breaching restrictions are caught and appropriately fined," said Mr Nugent.
More to come.
Most Viewed in National
Source: Read Full Article