'Tiger King' Star Joe Exotic Says He's 'Ashamed' of His Past Behavior in New Prison Interview
Netflix's hottest pick, Tiger King: Murder, Mayhem, and Madness, made Oklahoma zookeeper, Joseph Maldonado-Passage (aka Joe Exotic) infamous. The seven-part docuseries follows Maldonado-Passage from his "humble beginnings" to the 22-year prison sentence. He's currently serving time for a murder-for-hire plot against animal rights activist, Carole Baskin. Now, Maldonado-Passage is speaking out from his jail cell about Tiger King.
'Joe Exotic' is a changed man behind bars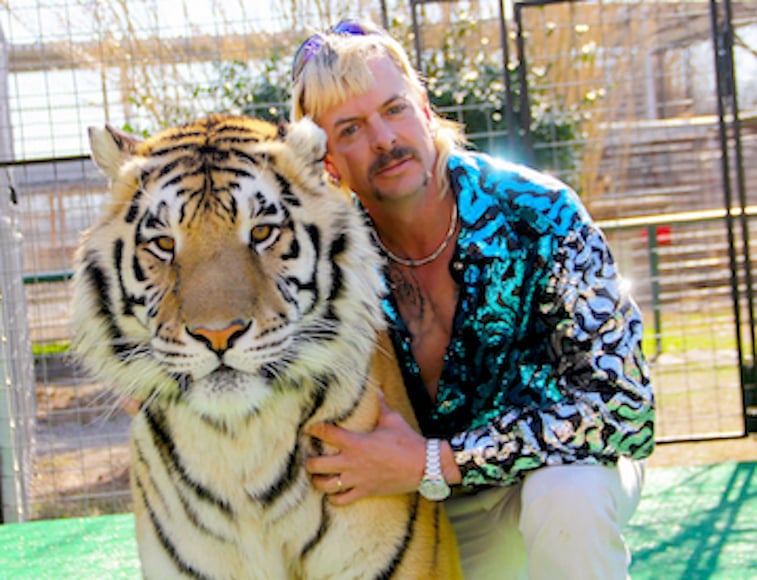 The first time since Tiger King became the viral sensation it is today, Joseph Maldonado-Passage is speaking out about what the hit Netflix series means to him.
The 57-year-old former big cat zookeeper, almost-politician, and supposed country music singer is currently serving time in federal prison for a murder-for-hire scheme against a longtime arch-nemesis, Carole Baskin.
Aside from a coronavirus (COVID-19) scare that forced Maldonado-Passage to isolation — and a medical care facility in conjunction with the prison — he remains married to his husband of nearly three years, Dillon Passage. Now, he's looking on the upside with his surge in notoriety.
He recently opened up with Netflix about his newly-found fame and regrets he has about his past behaviors. His answers may surprise even the most dedicated "Joe Exotic" fan.
A new interview reveals how 'Joe Exotic' feels about 'Tiger King' fame
During an hour-long jailhouse interview with Netflix, Maldonado-Passage answered questions that many fans are dying to know the answers to. 
"You know it would be nice if I could actually see me being famous out there, but I've seen these same four walls for a year and a half now," he told Netflix. Those who've watched the docuseries knows the importance Maldonado-Passage put on becoming famous.
Maldonado-Passage lamented on how the animals were treated while under his care, proving a little hindsight helped evolve the zookeeper. He encouraged other zookeepers to do one important thing to develop empathy for the animals in cages.
"Go sit in a cage with your animals for a week," he said. "I mean, when I left the zoo and I sent my chimpanzees to the sanctuary in Florida and imagined what my chimpanzees went through for 18 years, I — I'm ashamed of myself."
He went on to thank his husband for standing by his side. Maldonado-Passage also claims he's "done with the Carole Baskin saga." He added, it's now "time to turn the tables" and for "Joe to get out of jail so he can become a "free man," and "exonerated from all these charges."
Maldonado-Passage hasn't seen 'Tiger King' yet
Fans weighed in with a little skepticism about whether Maldonado-Passage is really over his longtime feud with Baskin.
"He says that now… when he gets out and realizes Carole actually did kill her husband he'll have something to say," this fan said. Many others echoed the trending hashtag #freeJoeExotic. Others think his sentence could be longer.
That said, Maldonado-Passage has yet to see the docuseries, despite both the rallying and the condemnation. In an interview with Andy Cohen, [Dillon] Passage commented on the fanfare Tiger King has created.
"He's in jail, so he can't necessarily watch it, but once the show dropped he was getting hundreds and hundreds of emails to his jail mail, and he was ecstatic," he said.
Currently, Maldonado-Passage is waiting for the trial that will decide whether he'll win the $94 million lawsuit he filed. That's $74 million for the loss of personal property, 18 years of research, and the care of 200 big cats.
He tacked on an additional $15 million for false arrest, false imprisonment, selective enforcement and the death of his mother Shirley, according to People. Only time will tell how this one shake's out.
Source: Read Full Article