The Real Reason Joe Gorga Fell Asleep On His Second Date With Melissa
On the last season of "The Real Housewives of New Jersey," fans of the show saw a very different side of Joe Gorga and Melissa Gorga's marriage. As things have shifted over the years for the parents of three, it seems that their marriage has struggled, especially as their kids have gotten older. Much of the shift is due to Melissa's decision to go back to work, first trying her hand at a career in music before opening her own boutique called Envy. Having Melissa working outside of the house has been a big adjustment for Joe, who has openly admitted that he would prefer that she stays home, according to Page Six. "Joe is not big on change and he likes things to stay the same. He likes to know that everything's going to be intact and probably, that's what makes him a great husband. But for me, I'm all about change right now," Melissa told Us Weekly in July. 
However, long before these marital disagreements kicked into high gear, Joe and Melissa met and started dating. It's nearly been two decades since that phase of their lives, but that doesn't mean that the reality stars have forgotten those special times they shared. And there's one time in particular — their second date — which is hard for Melissa to forget because, according to Us Weekly, Joe actually fell asleep! Keep reading to find out more about the Gorga's bad date.
Yes, Joe Gorga fell asleep while out to dinner with his future wife
From the outside looking in, Joe Gorga and Melissa Gorga appear to have a great marriage. They both work hard, they have three healthy children, a beautiful house, and a sprawling beach house down the Jersey shore. And to think that it all may have never happened after Joe royally screwed up the second time he took Melissa out! The couple was at a restaurant for dinner when Joe actually dozed off! "I was like, 'Am I boring you? Or are you on drugs?' Like, did I meet somebody who does drugs? You're closing your eyes! I am not used to boring people. What is happening here? And he literally just nodded out while I was talking to him on my second date," Melissa told Us Weekly.
As for why she decided to give him another chance? Well, he had a really good explanation; Joe had been up very early that morning for work. "He was like, 'No, I got up at 5:30 this morning. I'm exhausted.' I was like, 'Wow. I've never seen anyone nod out on me before. That's a first,'" Melissa told Us Weekly. Interestingly, this may have been the worst date, but the couple's first date was also sort of questionable — and Melissa spilled the beans on that date, too!
Joe Gorga tried to pull a fast one during his first date with Melissa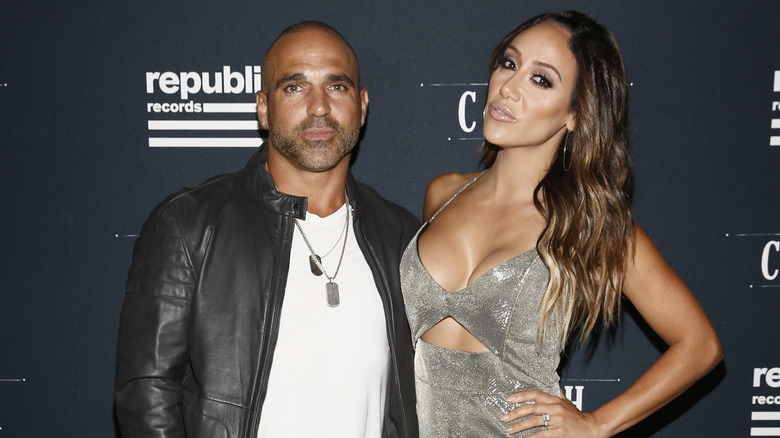 Believe it or not, Joe Gorga sort of screwed up during his first date with Melissa Gorga, too. When talking about the worst date that she'd ever been on with Joe, it sounded like a toss up between the first and the second! Melissa told Us Weekly that Joe had her over and "cooked" her dinner for their first date. The problem? He didn't actually cook the food. "[On] the first date he had me at his home and he made me a fake dinner — we can include that too. He put all the food in the pots and pans that he ordered from the Italian restaurant down the street and swore he cooked it all," Melissa shared. "That was, you know, A for effort," she added.
While a lot of women would have been running for the hills after these two strikeouts, Melissa told Us Weekly that she "liked [Joe] a lot" and she understood that he was "really tired" when he fell asleep during dinner. While there have probably been plenty of nights that Joe has found himself dozing off during dinner at home, Melissa knows that her husband is a hard worker. "He still works like a dog to be honest," she explained. 
In her chat with Us Weekly, Melissa also added that she and Joe are doing "much better" these days, which is a huge relief to "Real Housewives of New Jersey" fans who were genuinely worried that they wouldn't make it.
Source: Read Full Article