'The Office': How Jenna Fischer and Angela Kinsey Pitched the Idea for 'Boys and Girls'
Jenna Fischer and Angela Kinsey's main job on The Office was playing Pam Beasley and Angela Martin. But they managed to pitch an idea for an episode and it got made. Find out how they came up with the idea for the episode of "Boys and Girls."
'Boys and Girls' shows the office divided over work seminars
The episode "Boys and Girls" shows Jan (Melora Hardin) gathering the women in the office to hold a seminar. Michael (Steve Carell) gets the idea to gather the men to do the same thing. He ends up bringing them to the warehouse and his actions push the warehouse workers to want to unionize.
There are many awkward moments. One of them is when Roy (David Denman) confronts Jim (John Krasinski) about his supposedly old crush on Pam. Another is when Michael refers to Roy and Pam as the Brangelina of the office.
Kinsey and Fischer talked about the episode on Office Ladies. They went over the couple names on the show.
"Now here's a question, I've seen debate online. Some people refer to Jim and Pam as Jam, and some of them refer to them as P.B. & J, Pam Beasley and Jim. What do you think is right because I'm a Jam person?" Fischer asked Kinsey. "I like Jam because it's just easier to say," answered Kinsey.
Kinsey and Fischer also talked about pitching the idea for this episode. B.J. Novak then wrote it.
Fischer and Kinsey pitched their idea for the episode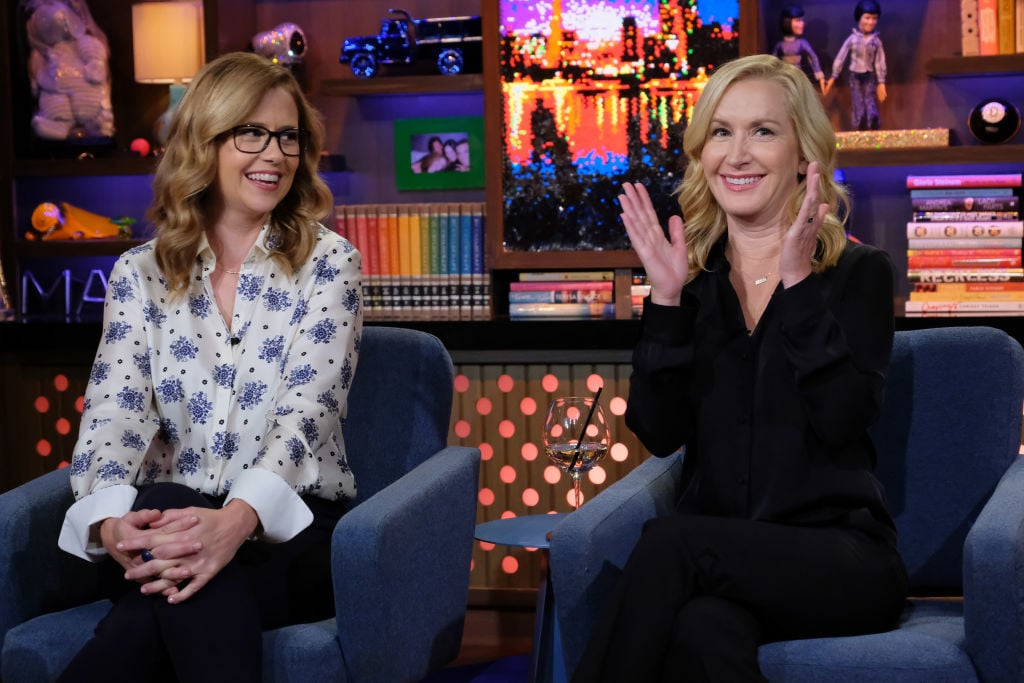 Fischer and Kinsey talked about one of the perks of working on The Office. One of them is that their ideas were taken seriously.
"We love that Greg Daniels was so collaborative," said Kinsey. She later said, "You know Jenna and I both worked in corporate America and so we both had to go to a lot of like human resource meetings and things like that. And we were on set one day talking about it."
Kinsey pointed out that she wrote about making this episode in her journal. "Jenna and I were talking about our lives before the show when she was secretary and I was an operator and we were laughing about all the crazy seminars and ridiculous meetings we had to sit through through our old corporate jobs," said Kinsey. "We sort of had this idea that it would be a funny episode called 'Women in the Workplace.'"
She said they ran into Daniels and told him about the idea. Novak was told to write notes from their experience. Fischer also said they had a lose premise for the episode.
"The idea is that Jan comes in and has a 'Women in the Workplace' seminar and then Michael gets jealous and he says he wants a 'Men in the Workplace' seminar," she said. But when Novak asked them what happens next they were all out of ideas.
He then wrote "Boys and Girls" based on this conversation. The episode is definitely a good one that covers the differences in the office between gender and class.
Source: Read Full Article