'Blue Bloods' Star, Marisa Ramirez Sheds Her Baez Look and Rocks Curls in New Cast Photo
The cast of Blue Bloods came together to take a photo. One of the cast members looked so different from their character that fans thought she was unrecognizable.
That would be Marisa Ramirez, who plays Maria Baez. She's often seen with short black hair on the show. Find out about her different look and what's going on with Baez and Danny Reagan (Donnie Wahlberg.)
Maria Baez and Danny Reagan's relationship might change on 'Blue Bloods'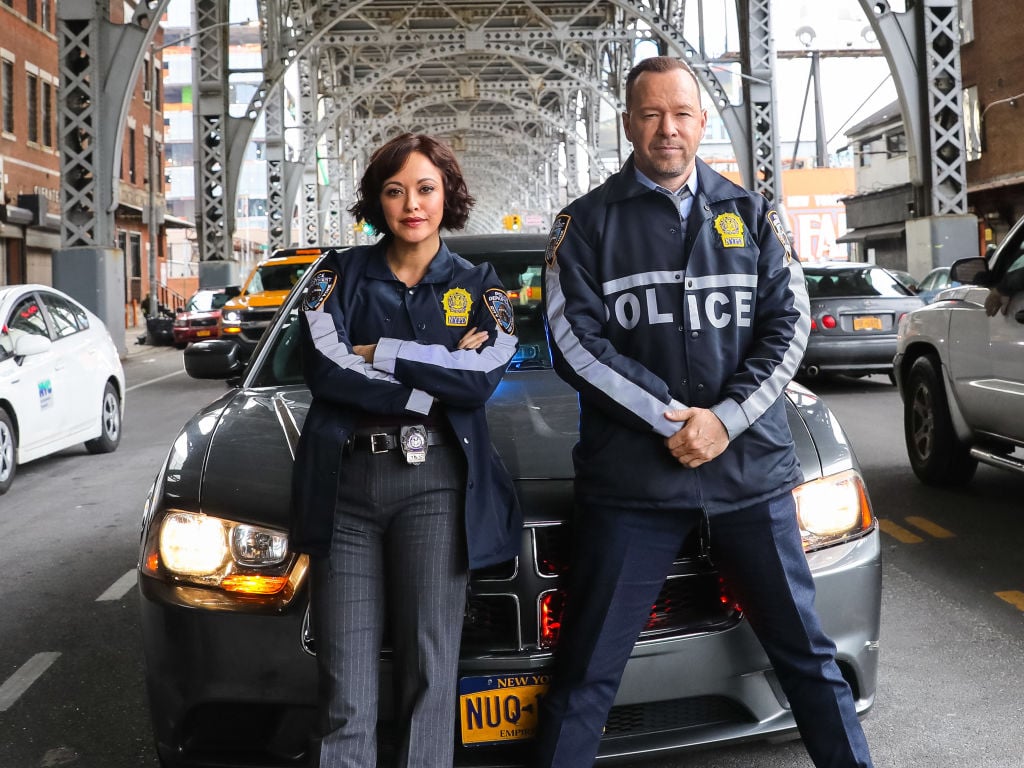 Baez and Danny have been working with each other for years. He's now a widower and Baez had to be someone he could lean on at work.
"But Maria is trying to be very, very supportive because it's such a difficult delicate situation," Ramirez told Showbiz Cheat Sheet. "Of course, he's so stubborn, and we'll see if he actually lets his partner in to help and to support and to give love and appreciation."
Fans are wondering if their relationship will become more romantic. "They've definitely been flirting around with Danny," Wahlberg told Showbiz Cheat Sheet. "I think his connection with Baez has been growing. I think the medium Maggie played by Callie Thorne has been building an interesting relationship with Danny."
Of course, the actor didn't have much to say about what will happen next. "So I don't know what the future holds," he said. "I don't look beyond the script that I'm doing right now. I never ask what's going to happen next with Danny. I just like to show up and be surprised because I don't want to anticipate anything. I'd just like to discover as I go."
The detectives are still just work buddies. It seems like the actors are just as close in real life.
Donnie Wahlberg posted a video of them dancing on set
Sometimes the partners are in a cop car together. Wahlberg showed what it's like to film together by sharing a video on Twitter back in January.
They were listening and dancing to Rihanna's "We Found Love," then stopped to film a scene. Wahlberg captioned the video with "Happy Monday from the set of #BlueBloods! Make today great! #MondayMood#MondayMotivation@BlueBloods_CBS."
She rocked curly hair for a cast photo
The cast posed together to celebrate Women's History Month. They all wore shirts for the occasion on the set of the Reagan's dining room.
Fans didn't recognize Ramirez at first because she isn't rocking her dark black bob. "Who is the curly haired girl next to Danny?" one fan tweeted. Other fans were able to recognize her and are a fan of her look.
"Baez needs to wear her hair like this on the show…. just sayin! It's beautiful!!!!" one fan tweeted. Chances are the cop won't be switching up her look after so many seasons.
The picture is also a nice change from the show given Baez hasn't ever been to family dinner. The Reagans tend to not have any outsiders although they had Frank (Tom Selleck)'s friend over for dinner for season 10's premiere. Hopefully one day we'll see Baez join them, but this is the closest we're going to get for now.
Source: Read Full Article