Amy Roloff From 'LPBW' Dished on Her Wedding Details: 'Weddings Are Very Important to Me'
The new season of Little People, Big World begins on March 31, 2020, and fans are excited to see what'll transpire. Last season, we saw major changes for Amy Roloff. We know Matt and Amy Roloff started the show as a married couple over a decade ago, but they've since divorced. And Amy made the major decision to pack up and move off of Roloff Farms.
Not only is Amy learning to navigate life without Matt, but she's also engaged to her partner of over three years, Chris Marek. Fans who've followed the show know Amy and Marek met through a singles' mixer event, and they later connected through motorcycle rides. Now, Amy's dishing to her followers about her upcoming wedding, and we're getting more info bit by bit. Here's what she said on Facebook Live.
Amy Roloff and Chris Marek are engaged
After Matt and Amy divorced, Amy noted she was unlikely to ever get married again. But meeting Marek changed everything. Now, after dating for several years and planning a future together, they're engaged — and Amy's elated to share that journey with her fans.
"And to my wonderful happy surprise he proposed and asked me to marry him! I couldn't believe it!" Amy wrote on Instagram back in September 2019. "I cried, he had tears and of course I said YES! I'm engaged and couldn't be happier. I love this man so much."
Since the engagement, Amy's kept her fans apprised with how her engagement is going, too. She's noted on Instagram that she's excited to start her new life with Marek, especially since she now has a new place that's all hers. While she's noted there's been some tension while living together thus far, she's working on "incorporating the 'we' into all of this" and creating a sustainable future.
Amy's talked about how she's looking for a more 'traditional' ceremony
Moving off of Roloff Farms was Amy's top priority. But her fans still want to know all of the wedding details she's hashed out so far. In early March 2020, Amy took to Facebook Live to share some of her thoughts on her engagement. And it looks like she may be heading for a more traditional wedding despite already walking down the aisle once.
"I'm much more of a traditional person … I want the wedding and the reception," Amy told her followers. "I would like to share that experience with [Chris]."
Not only does Amy not wish to elope with Marek, but she's also planning on wearing a gown, though she noted "it may not be white." And the blushing bride-to-be also noted that she'd love to make an appearance on Say Yes to the Dress if possible, as that'd be a great TLC crossover.
She told her Facebook Live followers even more details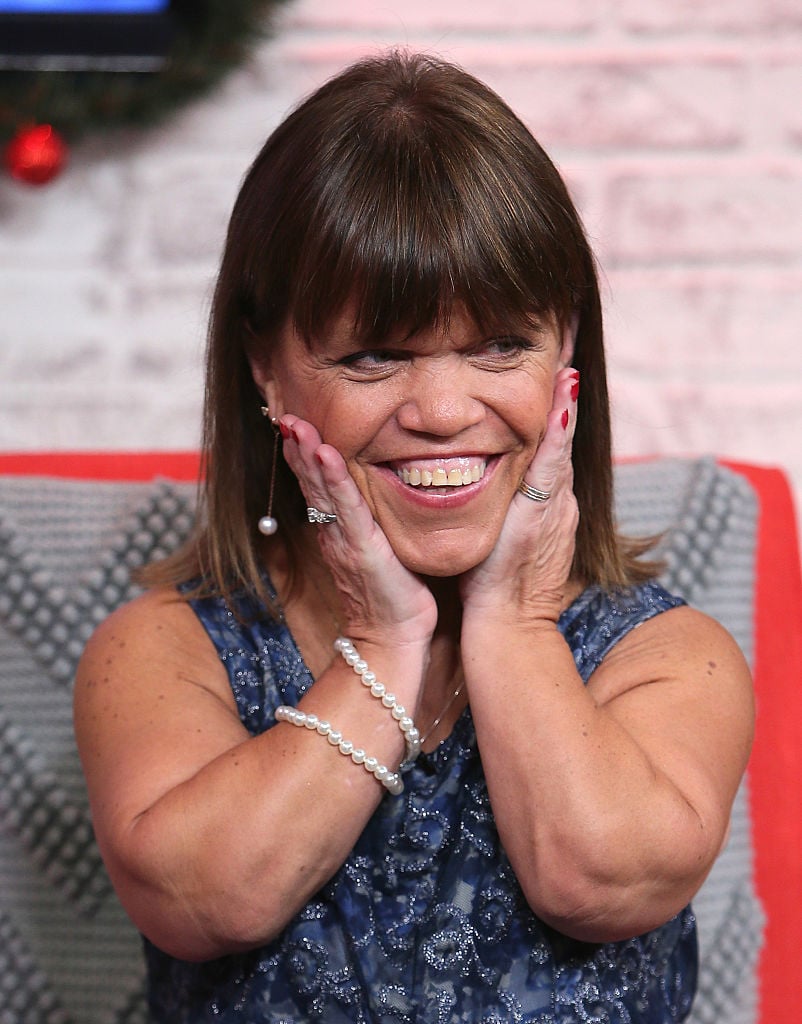 Amy took to Facebook Live once again on March 22. And her followers continued to ask about the wedding. Amy and Marek sat together to give some details.
"Chris has never been married or gone through the whole wedding ceremony thing, so a lot of his family is gonna wanna be here. I want a lot of his family here," Amy explained. "I love a wedding. A wedding is a great day to begin the rest of your life together. Weddings are very important to me. Letting those that you want to be there to help you through that commitment."
Marek then divulged that Amy wants them both to write and read their own vows. "I would like us to do some of our own vows," Amy verified.
There seemed to be some disagreement about who will be invited to the wedding ceremony and who's coming to the reception, too.
"The ceremony will be average-sized, but I have a feeling the reception, the party, is gonna be huge," Marek told Amy.
"Well, usually the people who come to the reception go to the wedding," Amy rebuked. "Looks like we're gonna have a discussion."
We'll have to see if Amy and her husband-to-be can work out the details. We're sure they have plenty of time since they're practicing social distancing currently like everyone else!
Check out Showbiz Cheat Sheet on Facebook!
Source: Read Full Article