'90 Day Fiancé': Tiffany Franco and Ronald Smith Are Staying Together
90 Day Fiancé fans are no strangers to the vicissitudes of love. In fact, they've seen some of their favorite couples split up, and get back together again, and then split up. And then get back together again. Here's looking at you, Ashley Martson and Jay Smith. Or Corey Rathgeber and Evelin Villegas, for example. Now, it seems as if Tiffany Franco and Ronald Smith will be able to join the vaunted halls of those 90 Day Fiancé couples that have claimed separation, only to get back together again.
Tiffany Franco and Ronald Smith called it quits
Tiffany Franco and Ronald Smith had a somewhat tumultuous relationship on their season of 90 Day Fiancé. Ronald Smith, a South African man, waited until after his engagement to Tiffany Franco to admit that he had a gambling addiction in the past. 
Obviously, this sowed some seeds of discord right off the bat for the couple. Franco at one point posted on Instagram, "When I was first dating Ronald before I knew about the gambling I was so blissfully happy… no stress just f*cking happy. How things and people change."
Sadly, things got worse. Tiffany Franco took to her Instagram story in January to announce that she and Ronald Smith would be separating. She wrote, "Unfortunately I have to announce that Ronald and I will be separating. I wanted to be the first to let you know rather than hiding it and putting on a facade for social media." 
She added, "Thank you guys for following our story, we really love each other but some things are just irreparable. We both deserve much better than what we can offer at the moment."
Ronald Smith wrote, "Herewith sorry to inform you all that I have decided to leave Tiffany for certain reasons. Thank you for following our story but unfortunately it just didn't work for me. I'll be filing for divorce in [South Africa] since she isn't even registered in [the] USA. Talk about [adultery.]"
Ronald Smith seemed to allege that Tiffany Franco kept him on a tight leash. He called Franco "very controlling" and "bossy" in another post to his own story.
Tiffany Franco visits her '90 Day Fiancé' love
https://www.instagram.com/p/B86OaHtHDjF/
However, not too long after announcing that they were splitting up, Tiffany Franco wound up taking a trip to South Africa to visit Ronald Smith. It seemed as if Franco was bringing along her daughter, who she had recently had with Smith.
Franco was slated to visit Smith for three weeks. Soap Dirt reported that Franco had claimed "the divorce was not final," and that they were "going to work things out."
Franco posted a photo of Ronald Smith and their daughter spending some time together. One Instagram user commented, "So does this mean you guys are working things out? I hope so. She looks just like Daddy."
Ronald Smith and Tiffany Franco patch things up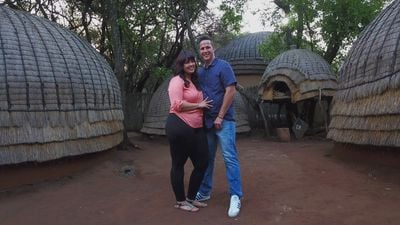 Now, Tiffany Franco has taken to Instagram once again to set things straight with her 90 Day Fiancé fans. 
In a lengthy series of posts to her story, Franco wrote, in part, "So I'm going to address the situation with Ronald and I. I'm sorry everything was so public when things got really bad, we both regret doing that and feel quite embarrassed."
Franco continued, "It is a very confusing time for the both of us but the love is there and the love is real and whether anyone thinks that's right or wrong has nothing to do with the decisions we will make moving forward. We are treading lightly…."
"And we are putting in the work, to get out of the rut that we were in. It's been a confusing couple of months and we might not know what the future holds but we both hope to fight for our marriage and spend the rest of our lives together. Thank you guys for your kind words and I appreciate all the advice. Things are not perfect and they are not anywhere near where we would want them to be but to answer everyone's messages and comments, we are not divorced, we are not separated," explained Franco. 
The reality star concluded, "There is a lot and I mean a lot that you guys don't know and we learned the hard way that it's not always best to hash it out in the public. More importantly I want to wish everyone health and happiness please stay indoors keep you and your loved ones safe [sic]."
Source: Read Full Article