'90 Day Fiancé': 'Babygirl' Lisa Hamme Has Changed Her Instagram Name 24 Times
90 Day Fiancé star Lisa Hamme has had fans of the show feeling so many different kinds of ways. The American woman traveled to Nigeria to meet Usman Usmar, a local rapper and aspiring musician who she met online. However, Lisa Hamme seems to struggle with jealousy issues. She's also very active on social media, and doesn't seem afraid to throw shade when she feels like it. However, she might be a little too active. Lisa Hamme has changed her Instagram name 24 times in a year and a half.
Lisa Hamme throws shade at Usman Usmar on Instagram
Fans of 90 Day Fiancé were a little caught off guard when they noticed Lisa Hamme getting shady with Usman Usmar on Instagram. Her posts poking fun at Usmar started shortly after her debut on the show, and had some fans wondering if the two were still together today. 
In one post, Lisa Hamme poked fun at a message Usmar wrote for her on Facebook, apologizing to her. In the message, Usmar wrote, "Hello Lisa Renee Hamme I'm very sorry for what I said TV, maybe it hurt U bcus of language barrier but i don't mean HURT to YOU [sic]."
Above the message, which Hamme appeared to have screencapped, she wrote, "When losing the chance at a K1 visa becomes reality." 
It remains unclear if this was just a joke at Usmar's expense, or if Lisa Hamme was really trying to shut Usmar down on Instagram. However, it seems like a pretty aggressive joke to make at Usmar's expense, and almost feels more like an attack.  
The post has since been removed, but stood alongside other posts directed at Usmar, including one in which Hamme suggested that Usmar smelled poorly.
Lisa Hamme caught slinging homophobic epithets
Meanwhile, Lisa Hamme was caught out throwing around some hurtful words on social media recently. It seems as if the 90 Day Fiancé star is getting fed up with various social media accounts speculating about her storyline, or messaging her and Usmar. 
Hamme has railed against 90 Day Fiancé bloggers on her Instagram account previously, via stories and posts. Sadly, it seems one individual took it upon themselves to release Lisa Hamme's phone number to the public on a Facebook group. 
Clearly Hamme has a right to be angry with the person that released her personal information, but homophobic slurs aren't the answer. In a screenshot of a message Hamme sent to the person who posted her phone number, Hamme wrote, "F*ggot. Your wife sucks c*ck."
The recipient replied, "Lisa why are you homophobic."
Hamme answered, "She big mad. I'm going to smash your wife."
The '90 Day Fiancé' star changed her handle 24 times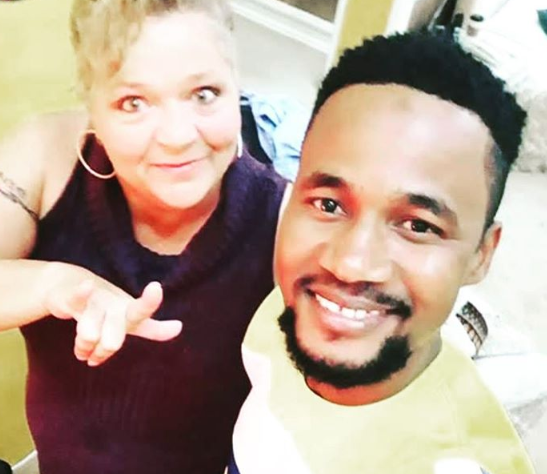 Interestingly, it turns out the 90 Day Fiancé star has had many names on Instagram over the last year and a half. Hamme seems to change her name often and remove old posts, including the ones aimed at Usman Usmar. 
A Redditor dove into her Instagram account history, and discovered that she'd changed her name 24 times in 17 months. 
About the list of names, one Redditor commented, "I'm cringing! This looks like a list of a tween/teen girl's AIM usernames… a girl who has a crush on a boy and really, really wants the world to know about it."
"That is legit disturbing. I always assumed that she played up her craziness and cluelessness for the show and on social media to tie in with the show, but it looks like she has been nuts long before her season started airing. What the f*ck is 'I am ghost of Sojaboy?' Who is Fatima? How is she Sojaboy's WiFi connection?! What does that even mean???" asked one Redditor of Hamme's various names. 
It remains to be seen whether or not 90 Day Fiancé fans will see Lisa Hamme change her handle yet again before the end of her story arc on the show. 
Source: Read Full Article