7 YouTube Channels With Workout Routines For Small Spaces During Quarantine
Many people in self-isolation are worried about gaining the "coronavirus 15," but there's no reason you can't stay fit while in quarantine. Still, if you usually work out outside or at the gym, it might be difficult to find an exercise routine that works for you during the coronavirus outbreak—especially if you live in an apartment complex or small space.
These fitness YouTube channels will help you do cardio, yoga, Pilates, and even high-intensity interval training (HIIT) workouts that aren't noisy, don't require equipment, and don't take up much space.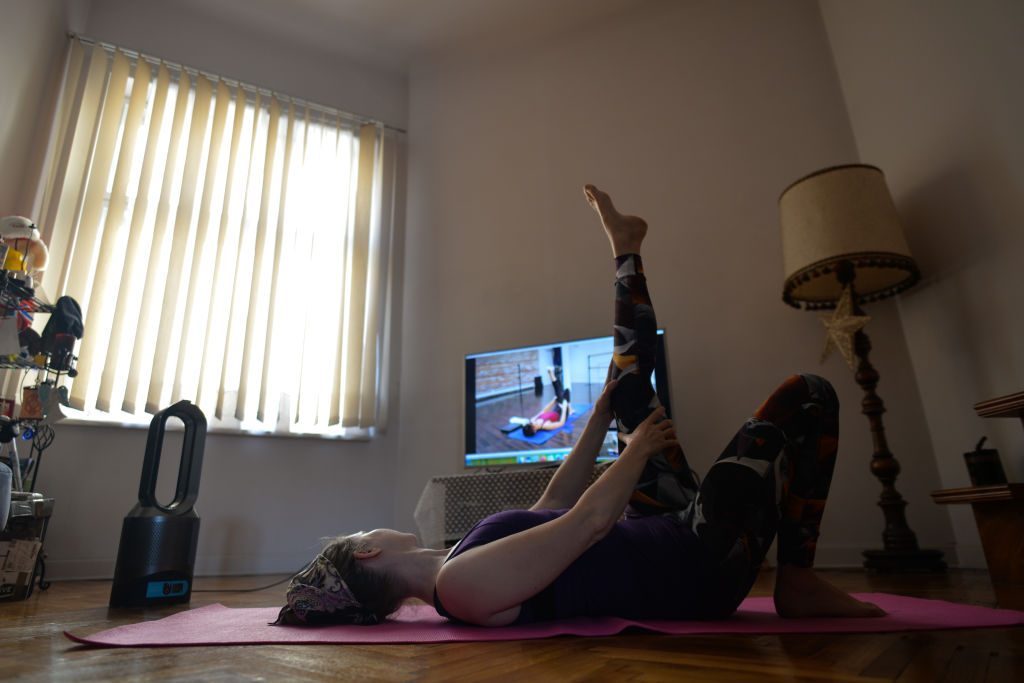 Kat Musni Fitness
Kat Musni frequently uploads free, full-length workouts to her fitness channel. Recently, her no-equipment strength, cardio, and HIIT workouts have been tailored to the reality of coronavirus lockdown. Check out the many comprehensive fitness routines on this channel geared towards people who live in apartments or only have a small space available.
The Body Coach TV
If you're into fairly high-intensity workouts and usuallyhead to the gym to get your exercise in, The Body Coach TV offersa solid alternative during the COVID-19 pandemic. This YouTube channel is chock-fullof short routines to help you shed fat, lose weight, and improve your strengthand flexibility, all without special equipment or noise.
Make sure to try the Hotel Room series for ultra-tinyspaces, especially if you're quarantined in a home or apartment you share withroommates.
Scola Dondo
Personal trainer Scola Dondo's workout videos are accessible, fun, and often musical and dance-based. She's known for being transparent with her subscribers about her fitness journey and what really works in terms of developing a realistic exercise routine.
Several of Dondo's full-body exercise routines are geared specifically towards tiny rooms and small spaces.
MadFit
MadFit videos are polished, simple to follow, and easy to adapt to your starting level of fitness. A fitness series geared towards apartment dwellers and others who don't have much room to move around, especially during COVID-19 isolation.
No need for special equipment, prep, or any bells and whistles…Just use your body weight and get started.
Emi Wong
Ever wanted to perfect your abs in bed? Quarantine—and Emi Wong's popular YouTube channel—might finally give you your chance. Whether you live in a super-tiny space and want to make your bed your new workout mat or just want to get a few crunches in before bed, many of the videos on this channel are geared towards getting fit without needing any equipment, a gym, or even floor space.
These videos are also helpful if you're disabled,chronically ill, injured, or just tired and not feeling well, and still want tostrengthen your core. The lower ab-targeting videos are some of the channel'sbest, and the onscreen timer and instructions are easy to follow no matter yourstarting fitness level.
Yoga With Christina- ChriskaYoga
Want to do yoga, but don't have enough room to spread out as much as you want during coronavirus isolation? This channel offers several videos that will work in quarantine, even in a dorm room or other super-tight space. All you need is a bit of breathing room, and you can follow along with these tutorials.
Blogilates
This super-popular fitness channel focuses primarily on Pilates moves, toning, flexibility, and strength-building.
Several Blogilates videos allow you to get a full-body cardio workout in, all from your apartment without bothering your neighbors or causing a noise complaint.
Source: Read Full Article