This Lego Waffle Maker Lets You Build a Brick Creation With Your Breakfast
You're not supposed to play with your food, but all bets are off when your breakfast is in the shape of Lego building blocks. The Building Brick Waffle Maker lets you take your beloved carbs and create your very own house, building, bridge, or whatever you imagination can come up with!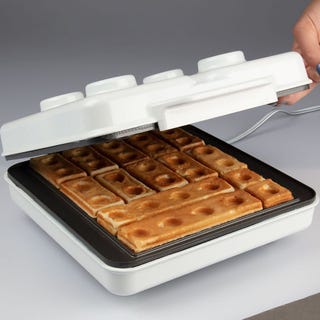 The cooking plates have perfectly sized studs, so once they're done cooking, they can interlock. You can make 14 pieces at a time, so your kids (or you) will be building in no time. Better yet, you can eat your creation after you're done admiring and taking pictures of your hard work. It's an activity and a meal — what more could you want?
The fun waffle maker launched on Kickstarter to find backers for the project. So while you can't get it just yet, you will this summer. To get one, go to the Kickstarter page, back the project ($50 for one waffle maker, $75 for one waffle maker and two construction — aka eating — plates, $95 for two waffle makers, or $100 for one waffle maker and four construction plates), and it'll ship in August 2020.
The project has already well passed its $7,500 goal (it was at over $18,000 at the time of publishing), so it looks like there is no doubt that it will be happening. According to the Kickstarter, this is the world's first building brick waffle maker, so it's no wonder people are all over it!
No matter how old you get, I think we can all agree that we can still act like kids — and that includes playing with our food.
Source: Read Full Article