Stella Artois and Martine Rose Tease Jacket Fully Adorned With Stella Bottle Caps
UK's pub subcultures provide the backdrop and inspiration for Stella Artois and menswear designer Martine Rose's special collaboration. Rose, who continually energizes Britain's counterculture movements, designs clothing with the spirit of punk and rebellion in mind. In partnership with Belgian-style lager Stella Artois, the British-Jamaican menswear designer highlights the authenticity of the partnership with a clothing and accessories collection rooted in Stella's heritage.
Included in the Stella Artois x Martine Rose collaboration is a bomber jacket – a hero piece in the entire collection that perfectly represents the vintage-meets-modern spirit of the collab. The military-inspired design, which Martine Rose crafted from supple tan leather, also features a contrasting sherpa collar. Rose added the Stella Artois touch by fully adorning it with the beer brand's colorful bottle caps for a head-turning finish. Furthermore, the caps have an imperfect look to them, with some slightly bent and showing some patina for a well-worn feel. They've also been hammered on and imperfectly placed throughout, highlighting the time and dedication it took to complete the jacket. Lastly, Rose lined the inside with patchworked beer towels showcasing the Stella Artois and Martine Rose logos.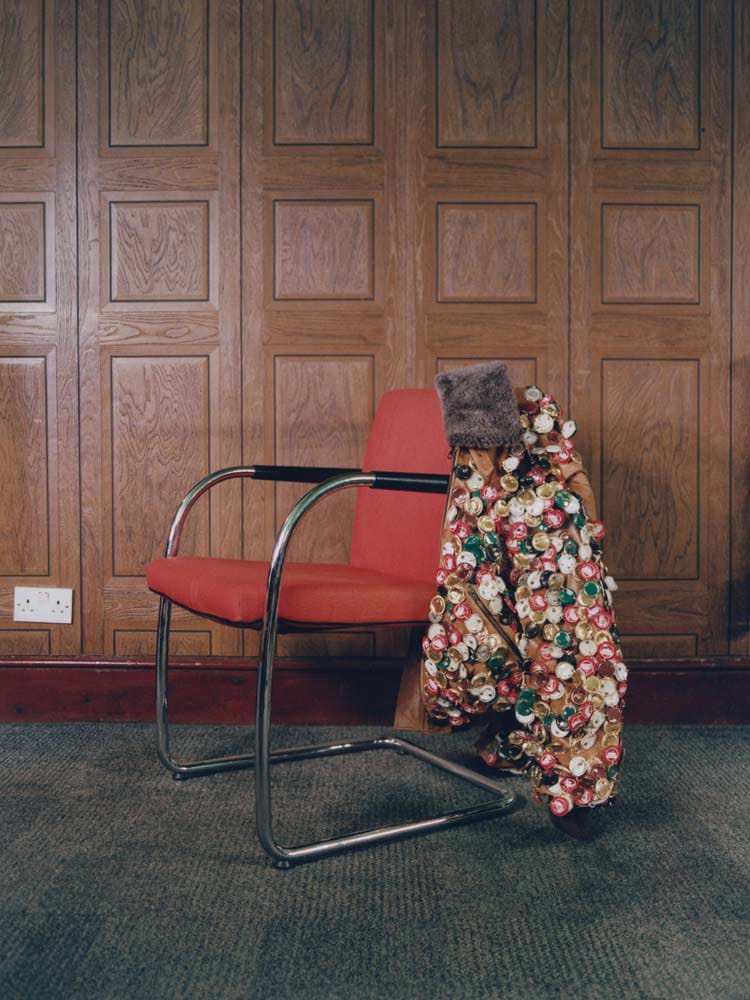 Photo/Sam Khoury
"It's a heavy, cognac coloured cowhide, with an aged, broken effect hand," Rose explained the craftsmanship of the jacket. "We wanted something that felt like an authentic aviator jacket leather. It's embroidered on the back, has embroidered patches on the sleeve, the bottle tops are hand sprayed or custom printed, and hand smashed flat, then hand riveted on also…the team took shifts applying it all. It's a real labour of love and completely bespoke. The lining are custom MR x Stella Beer towels, overdyed by hand here at the studio so the colour became more complex and subtle. Our Beer towel hoodies, and beer towel linings in bombers are an iconic part of our collections – as well as being another subcultural classic in UK fashion history."
The jacket, which comes in an XL size, is made to be a one-off piece and never to be reproduced. It's the perfect complement to the second item in the collection, a pair of repaired jeans embellished with Stella Artois x Martine Rose patches that shares the jacket's vintage, well-worn look. Additionally, the jacket is seen throughout the teaser video which takes place at Cousins Pool Club, a personal favorite hangout for Martine Rose. The space oozes vintage cool and is an iconic destination for dedicated and casual pool players. Cousins Pool Club also reflects the authenticity of the collaboration.
View this post on Instagram

A post shared by HYPEBEAST (@hypebeast)
"There's a long history of DIY customisation in subcultural clothing, punk especially, so it's very English but it also touches on other craft traditions," Rose said of the jacket. "I'm thinking of African crafts that incorporate bottle tops and other found metal ephemera. Using everyday things to make something more special and unique."
Lastly, fans in the US of both Martine Rose and Stella Artois can enter for a chance to win the jacket as well as other pieces from the full collection through a special sweepstakes. Fans can head to @StellaArtoisUSA on IG to follow the campaign and enter for a chance to win the jacket by visiting the Stella Artois site through desktop or via mobile to access the "Stella Artois Spin to Win Holiday Sweepstakes" portal. There, participants will need to create an account and follow the instructions for entry and filling out the proper fields. Winners will be notified on December 27, 2023. For a full view of the rules please visit stellaartoisspintowin.com/rules.
STELLA ARTOIS® SPIN TO WIN HOLIDAY SWEEPSTAKES
NO PURCHASE NECESSARY. Open to U.S. residents 21+. Begins on 10/20/23 and ends on 12/26/23. Visit www.stellaartoisspintowin.com for entry and Official Rules. Message & data rates may apply. Void where prohibited.

Always Enjoy Responsibly
© 2023 Stella Artois® Beer, Brewed in the U.S.A., Stella Artois, St. Louis, MO.
Source: Read Full Article