'RHOA': Tanya Sam Shades Kenya Moore, Defines Her as a 'Hypocrite'
Tanya Sam is a friend of The Real Housewives of Atlanta. The Canadian native has been a breath of fresh air on the Bravo reality series. Although she's surrounded by drama, Sam has been able to maintain her bubbly persona and positive outlook. However, after Kenya Moore felt insulted by Sam she came after her and her marriage.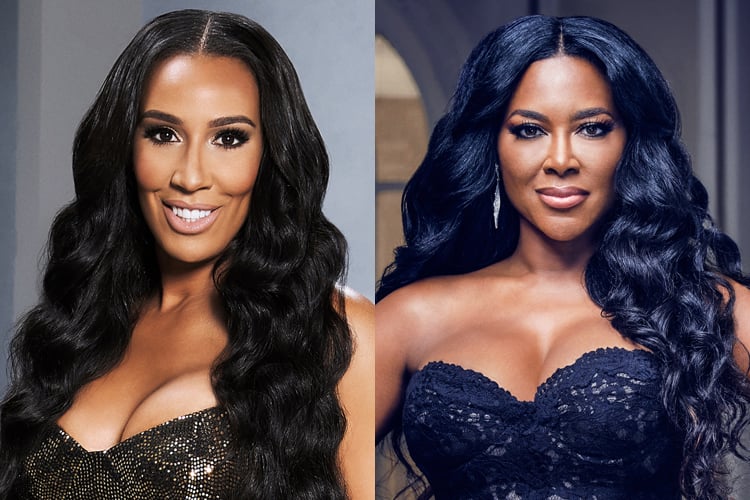 What happened between Kenya Moore and Tanya Sam?
The ladies of RHOA took a trip to Toronto, Canada to take part in the carnival festivities. Moore has always been a shady character amongst the cast and started dropping hints that all pointed to Sam.
During a luncheon, Moore asked the table if any of them would want to know if their husbands are cheating on them. She didn't namedrop anyone but she had someone in mind and her words were directed at Sam.
The former beauty queen was approached by a woman who claimed to have been in contact with Sam's husband. Moore kept quiet but Cynthia Bailey knew exactly what she was talking about. The latter witnessed the moment the lady came up to Moore to tell her the gossip.
Everyone kept mum about the situation until Moore heightened the situation taking it to another level.
What made Kenya Moore upset?
When the ladies returned to Atlanta, Sam said she had a secret about Moore. She said the Miss USA titleholder had left a wig behind. Marlo Hampton noted was surprised as Moore has always claimed she doesn't use wigs. Moore even has a haircare line for natural hair.
At this point, Moore was upset because she thought Sam was messing with her business. People watching the show could think she is defrauding the consumers and she didn't like that as sales could be affected.
As revenge, Moore ambushed Sam with the "cookie lady," the woman that Sam's husband allegedly flirted with. The low-blow was not taken well by fans and a backlash against Moore ensued.
Tanya Sam fires back
Moore has had other arguments with the ladies over them bringing up aspects of her life that she doesn't want them to bring up. A fan tweeted a message that exposed Moore for her clashing views.
"Kenya: my mom, my husband, and my child are off-limits," the tweet read followed by, "uhh, didn't you bring the cookie lady around to attack Tanya's husband?"
Sam saw this tweet and retweeted adding, "The definition of a hypocrite."
And it's true, Moore has brought up other people's husbands. During season 8, she tried to cause a rift in Kim Fields' relationship. She brought up rumors online that claimed that her husband was gay. Both Fields and her husband did not give her much importance but Moore has had no limits in bringing up inappropriate accusations.
Fans side with Tanya Sam
Following Sam's epic clap back, fans commented taking her side on the whole situation.
"Kenya makes rules everybody has to follow but she doesn't and if you call her on it, she walks way," a fan wrote.
"Kenya likes to dish it out but can't take it," another fan added.
"I used to like Kenya and her fun shade but this season, she is just cruel," another viewer commented.
The Real Housewives of Atlanta airs Sunday nights at 8 p.m. ET on Bravo.
Source: Read Full Article