Princess Diana and Queen Elizabeth: Their Relationship in Photos
In life (and death) Diana, Princess of Wales had been adored around the world. But behind closed doors it's said she had a rocky relationship with Queen Elizabeth. 
Diana, who married the queen's oldest son, Charles, Prince of Wales in 1981, had been among the most well-liked members of the British royal family. In fact, she received so much attention from the public and the press that it reportedly made Charles jealous.
Their ill-fated marriage came to an official end in 1996 but not before there had been a lot of ups and downs. The drama in their marriage created tension between Diana and Queen Elizabeth that put a strain on their relationship.
Queen Elizabeth thought Princess Diana would be a good match for Prince Charles 
When Charles and Diana got engaged in 1981, it had been said the queen took a liking to Diana, who had then been known as Lady Diana Spencer.
Her, as well as other members in the royal family, felt she'd been a suitable match for Charles as opposed to the real love of his life, Camilla Parker Bowles now the Duchess of Cornwall, because she had a good reputation and came from a well-liked, aristocratic family. Ahead of their July 1981 royal wedding, Charles, Diana, and the queen posed together for a picture (above). 
British royal family saw Diana as a 'problem'
Not even a year after her wedding and Diana had already been deemed a "problem" by the royal family, author Andrew Morton wrote in his book, Diana: Her True Story – In Her Own Words.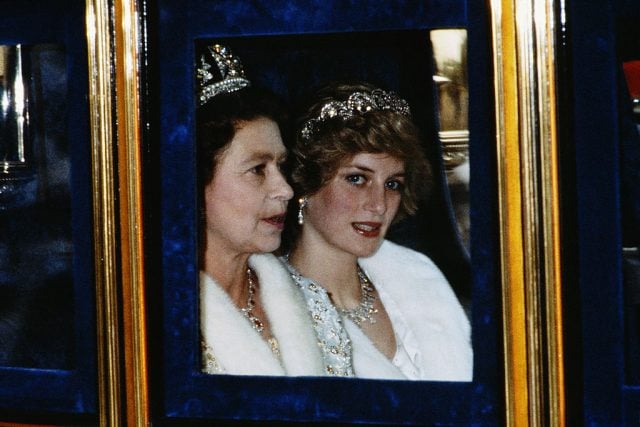 In 1982, Diana attended the opening of Parliament alongside the queen and Charles (above). At that point, the couple had already welcomed their first son, Prince William, Duke of Cambridge. That means the queen had already heard of Diana throwing herself down a flight of stairs while she'd been pregnant with William as well as her having an eating disorder, bulimia nervosa. 
Queen Elizabeth turned down Princess Diana's request for marriage advice
In 1986 when Charles and Diana's marriage had gotten particularly bad — Diana had been dealing with Charles' affair with Camilla — she turned to her mother-in-law for help because she felt "her marriage was loveless."
In the documentary, Diana: In Her Own Words, Diana recounted what happened when she went to the queen for marriage advice: "I went to the top lady and said: 'I don't know what I should do.' She said: 'I don't know what you should do.' And that was it. That was 'help.'" 
PICTURE – Queen Elizabeth and Princess Diana in 1987 at a polo match
Here they are pictured (above) a year after Diana came to the queen for advice, attending a 1987 polo match. 
She demanded Prince Charles and Princess Diana divorce
After Diana's Nov. 1995 bombshell interview with Martin Bashir sent shockwaves through the royal family, Queen Elizabeth had reportedly been so upset with Diana, she wrote her a letter demanding she and Charles get a divorce. 
At the time of the interview, Diana and Charles had been separated since 1992 and the world had been made well aware of their marital struggles. If the queen did indeed send Diana a letter telling her to get a divorce, it worked. The couple officially split in 1996 before Diana's death in 1997.
Source: Read Full Article