Nicki Minaj Stuns In Vogue with Son Papa Bear, Pushes Back Against Being Labeled as 'Mean'
Minaj reveals why she began "uncontrollably sobbing" seeing the photos of her with her son, after opening up with Vogue about things getting "testy" with her husband and delighting her Barbz with a 73 Questions video.
Nicki Minaj is pushing back against being labeled as "mean" in both her Vogue cover story and accompanying 73 Questions video for the publication.
The rapper stuns on the cover of the December issue, while posing with her son — known only as Papa Bear — inside the magazine. As part of the sprawling interview, Minaj defended herself from anyone calling her "mean."
"When I hear the word mean, I think about the core of who the person is. I always tell people that the difference between being mean and being a bitch is that bitch passes. Bitch comes and goes. Mean is who you are," she explained. "I could be the biggest bitch, at the height of my bitch-ness, but if the person I may be cussing out at that time needs something from me, I'm going to give it to them. I have to be able to look in the mirror and be okay with myself."
Unable to render YouTube Video.
During her 73 Questions video (above), the subject came up again when she was asked to reveal the biggest misconception about herself. Her simple answer: "That I'm mean."
Other tidbits gleaned from the nearly 20-minute video: her least favorite thing about working at Red Lobster, who was probably in her MySpace Top 8, her 10-year prediction about her life and the song that always makes her cry ("Hello," by Adele).
She also freestyled for Anna Wintour, gave props to the Barbz and explained how she came up with the nickname Papa Bear for her son.
"I don't know. I've always been a nickname person. I give everyone I love these nicknames, normally," she said. "He, actually, had a couple nicknames. His first nickname when he was in my stomach was Bubba. When he came out, it just transformed into Papa Bear. I can't explain it, it's what I thought."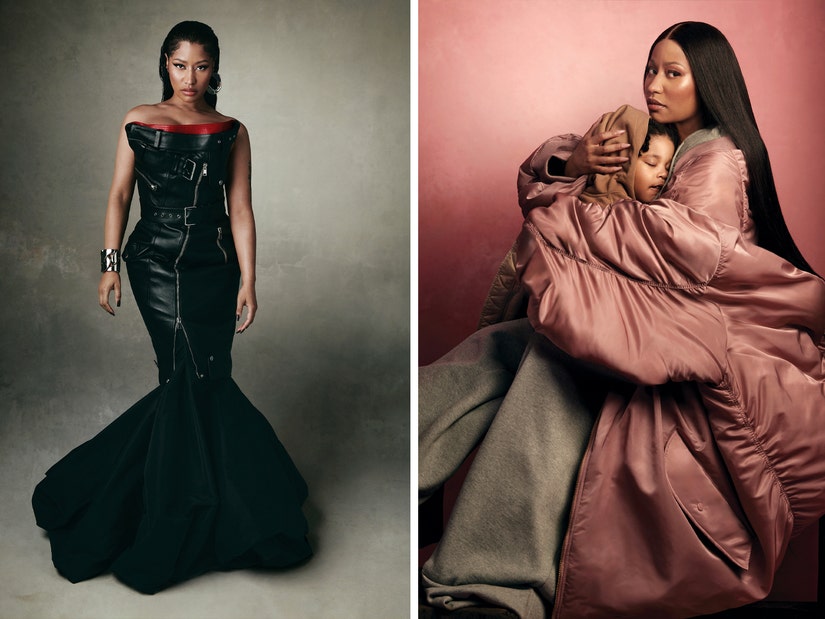 On X, formerly Twitter, Minaj said she was "so nervous" about the photoshoot with her son.
"Thinking he was due for a nap & what if this, what if that… and to my surprise my child wiggled & wiggled & wiggled…and then right when I thought OH NO WE ARENT GOING TO GET THE SHOT, peace…calm…quiet?" she posted. "Confused I just keep semi-posing I guess? It dawned on me. There was a loud fan on … he loves that sound … When [photographer Norman Jean Roy] brought the camera I was sure I was about to hate it b/c surely there was no way. *dramatic pause* he shows me the camera. I look down & start uncontrollably sobbing. My son, had been comfortable enough to just…sleep."
"In all the chaos, lights, ppl … my arms were giving out but he felt peace … nice & cozy & wrapped up in mama's arms & a gorg vetements ensemble."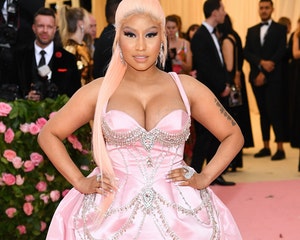 Nicki Minaj Celebrates 'New Boobs' After Hinting She Was Considering Breast Reduction
In the interview, Minaj said that when Papa Bear was born, both she and her husband Kenneth Petty were exhausted.
"I'm not going to lie, things got testy between us," she shared. "Because of our history, I think we knew we'd get past it. But there's no such thing as confidence in parenthood. I kind of wish that someone had told me — although I'm sure I wouldn't have been able to understand it — that there's a level of anxiety, and you think it's going to go away, but in fact it gets scarier. So often you think: I don't know how to do this!"
She also addressed the pressure to snap back after giving birth and how she now feels "at peace with who I am and how I look."
"I have to say this as a Black woman, though. I've made certain choices for my son, to not give him sweets and candy and juices, because of illnesses like diabetes that run in our community. I'm not in favor of body positivity if it means unhealthy bodies," said Minaj. "That's bull. It's not believable, so let's stop pretending."
"Recently I had to get a breast reduction, and actually I love it," she continued. "I used to want a bigger butt, and now I look back and realize how silly that was. So — love your curves, and love your non-curves. There's nothing wrong with any of it."
Vogue's December 2023 issue is available on newsstands nationwide on November 21st.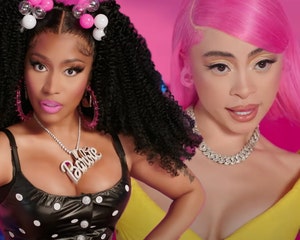 Nicki Minaj and Ice Spice Are Barbie Girls In New Barbie World Music Video
Source: Read Full Article