Meghan Markle's Ginger Berry Crumble Recipe Is a Healthier Dessert With a Kick
Meghan, Duchess of Sussex's favorite dessert recipe is a healthier fruity option than cake or pie and is super simple to pull together at a moment's notice. It also has a special ingredient that takes the flavor to the next level. Find out how to make Meghan's delicious ginger berry crumble recipe.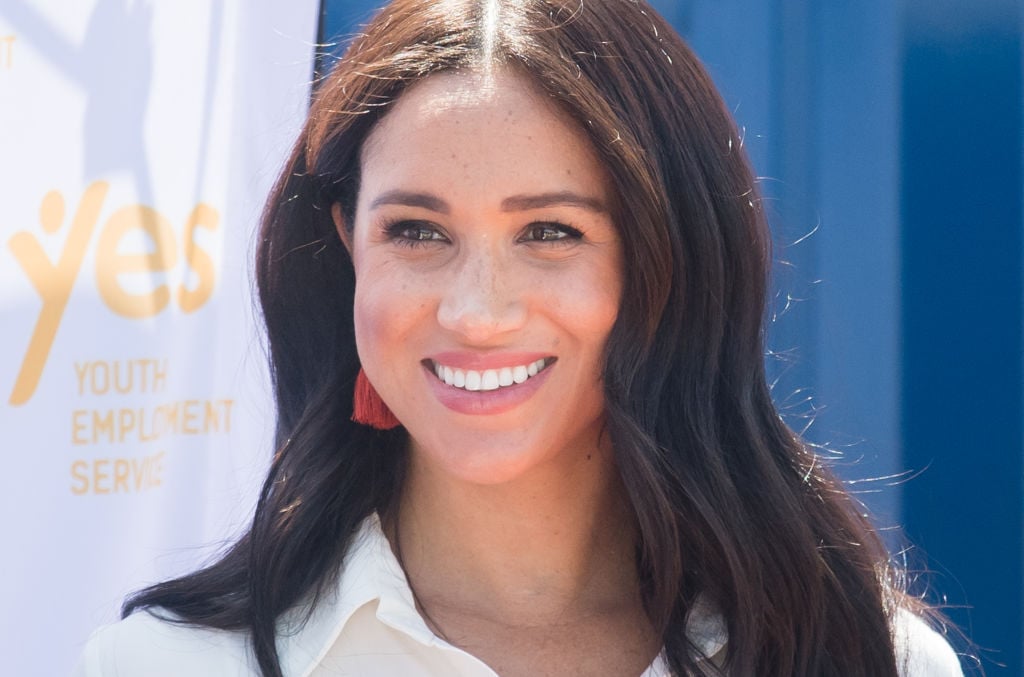 Meghan keeps things healthy with a fruit dessert
Meghan's ginger berry crumble recipe comes from her now defunct website The Tig, but she shared the recipe with Cooking Light in 2014 after she launched the site.
"I love baking that lets you play and experiment, the less precise stuff is right up my alley," she told the magazine at the time. "That's how I came up with The TIG Ginger Berry Crumble — it has a relatively healthy bent and a great kick of fresh ginger."
Meghan developed the recipe with some healthier swaps — instead of sugar, she uses maple syrup, and she adds flax seeds as well (flax seeds are optional).
Ginger berry crumble recipe
The best part about Meghan's berry crumble recipe is that ittakes just 10 minutes to put together!
Filling ingredients:
2 cups blueberries
2 cups blackberries
1/2 teaspoon vanilla extract
2 teaspoons lemon juice
1 tablespoon maple syrup
1 teaspoon freshly grated ginger
Topping ingredients:
2 and 1/2 cups rolled oats
5 tablespoons flour or almond flour
2 teaspoons cinnamon
1/2 teaspoon vanilla extract
5 tablespoons honey or maple syrup
5 tablespoons coconut oil (cold-pressed, at room temperature)
1 teaspoon flax seeds (optional)
Preheat oven to 350°F. Rinse the berries and place in abaking dish, then add the vanilla, lemon juice, maple syrup, and ginger. Tosswell.
In a separate bowl, prepare the crumble topping. Mix theoats, flour, cinnamon, vanilla, and flax seeds. Add the maple syrup and coconutoil and stir until combined.
Pour the crumble topping evenly over the berries. Bake for 35-40 minutes or until the fruit juices are bubbling around the edges and the crumble topping is lightly browned.
Each serving of the ginger berry crumble dessert is 280 calories. Serves 8. For a more decadent option, serve with a scoop of ice cream on top. The crumble can also be served with yogurt.
Meghan shared her tips for a healthy lifestyle
Meghan's lifestyle blog may no longer exist, but her recipes and recommendations for healthy living can still be found online. In 2015, Meghan shared a smoothie recipe with The Chalkboard and had some suggestions about how to make healthy choices.
For instance, she offered the suggestion to "take your time" when eating out. "Order your starters and have a glass of wine, and then see how hungry you are before you order your next course. It's a great way to enjoy dining in general… pacing yourself and enjoying your food without rushing through it and you'll inadvertently eat less," she explained.
She continued, "Alternatively, I would say one of the besttips would be to put your phone away. It's healthy to be present. Everythingcan wait."
Source: Read Full Article