Megan Thee Stallion Has Something Important To Say In Her New Music Video
After recently marking her return to social media, Megan Thee Stallion has now dropped her much-anticipated new single, "Thot S**t." As fans will remember, Megan took a break from Instagram back in April in order to "prepare for what's next." Then, on June 8, the "Hot Girl Summer" star made a surprise return, posting a bikini picture as well as the cover art for her new single dropping on June 11. "THOT S**T 6/11 PRESAVE IT NOW HOTTIES, " she wrote in the caption.
To further support the drop, Megan shared DJ Khaled's reaction to the music video for "Thot S**t" ahead of the official release… and his response is hilarious. "Yo, they're gonna actually air this? Nah…" Khaled says in the video. "It's a new world. And it's definitely a new video. Let me tell you something…," he continues, before the clip ends. And so, once Megan's new music video finally dropped on June 11, fans went wild — to the point where it became the No. 1 trending topic on Twitter in the U.S. 
In pure Megan's fashion, the clip is jaw-dropping… but it's not only due to her outfits. In fact, the video sends an important message to all of the hateful internet trolls. Find out more below.
Megan Thee Stallion wants conservative men to stop hating on 'Thot S**t'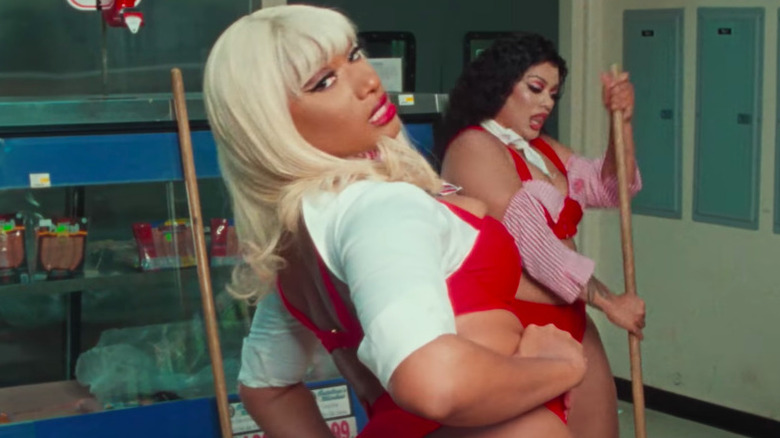 After Megan Thee Stallion dropped her new single and music video, "Thot S**t," the rapper quickly became the No. 1 trending topic on Twitter — and the video quickly amassed close to 700,000 views on YouTube just eight hours after it premiered. The new clip, in particular, sends a message to all the conservatives who slammed her and Cardi B's hit song "WAP."
The clip starts with an unnamed senator, who leaves a hateful comment under Megan's "Body" video. Before reaching for his zipper, however, he's interrupted by a call. "The women that you accidentally trying to step on are everybody that you depend on," Megan tells him over the phone. "They treat your diseases, they cook your meals, they haul your trash, they drive your ambulances, they guard you while you sleep. They control every part of your life. Do not f*** with them!"
Then, Megan and her squad of Hotties proceed to taunt him for the rest of the day. The video then ends with the senator waking up in his office, realizing that his mouth has turned into a different kind of hole. "THEY TURNED HIS MOUTH INTO A [VAGINA]!!!!" someone screamed in the YouTube comments.
People on Twitter, in particular, think "Thot S**t" is revolutionary. "Megan's new video a cultural reset I fear…," one fan said on Twitter. "This new Megan video just set the black community forward 20 years idk," another person tweeted.
Source: Read Full Article