Martha Stewart Breaks Down the Steps to Making a Perfect Martini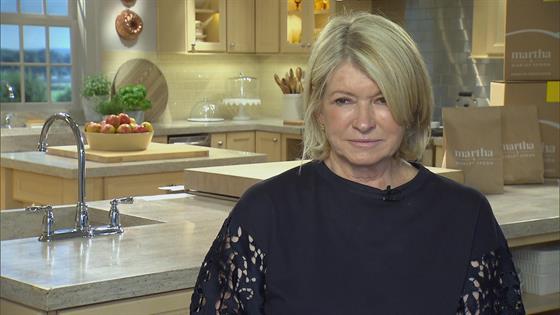 Martha Stewart has the perfect martini recipe.
The lifestyle guru joined Seth Meyers from her farm for Wednesday's episode of Late Night with Seth Meyers and gave a tutorial on how to make the "perfect Martha martini."
Before diving into the recipe, Martha seized the opportunity to play an April Fool's joke on Seth by pretending that she cut her finger while prepping her for demonstration. After showing the late night host a fake bloody towel and assuring him that she stitched herself up using her own Martha Stewart Medical Emergency First Aid Kit, Martha came clean and took a moment to urge viewers to be safe in the kitchen while social distancing.
With her prank and PSA out of the way, the Martha & Snoop's Potluck Dinner Party star kicked things off by pouring ¼ cup of vermouth into her martini shaker. Honoring her Polish roots, she then added 4 cups of Belvedere vodka and ice cubes and proceeded to shake her mixture. "Wait until the whole shaker becomes cloudy with cold, like, film," she said. "It's so cold it's hurting my hand!"
When it comes to garnishing the perfect Martha martini, Martha used a lemon peel to add some zest and flavor to her drink. After straining her martini into a chilled glass, she explained, "Twist your lemon peel, like that, right over the surface and a little bit of that oil from the skin goes right into the martini," she recommended. "And if you want to prolong…the drink, just add an ice cube and another one. I can really nurse one martini for a pretty long time. But, in this day in age…"
While Martha prepared her martini, Seth fetched himself a drink of his own. "I just have some scotch I'm gonna pour into a water glass and watch," he said. Holding both of their glasses up, Seth made a toast: "Well, here's to both nursing martinis and to America's nurses."
Before signing off, Martha treated Seth to another drink recipe. This time, she showed the Saturday Night Live alum her take on an Aperol spritz using Saint Germain liqueur that she spiced up with rhubarbs from her garden.
"Look at this gorgeous stuff," she said as she held up her concoction. "I put stalks of rhubarbs in about five days ago in anticipation of home confinement and it turned the Saint Germain this beautiful pink color. And this over ice…so, instead of Aperol spritzes, this is my new take on it. It's a little less strong." To finish off the drink, Martha added a splash of seltzer water, which she, of course, made herself.
Watch Martha walk Seth through the perfect martini recipe in the video above!
(E! and NBC are both part of the NBCUniversal family.)
Source: Read Full Article