Does Justin Bieber Still Have a Close Relationship With Usher?
Justin Bieber's discovery was sort of groundbreaking due to the fact that he was one of the first major artists that were discovered on YouTube. R&B singer Usher was huge in Bieber getting his start and the two had a mentee-mentor relationship and have a well-documented friendship. Despite a lot of negative headlines surrounding Bieber's personal life, are he and Usher still close?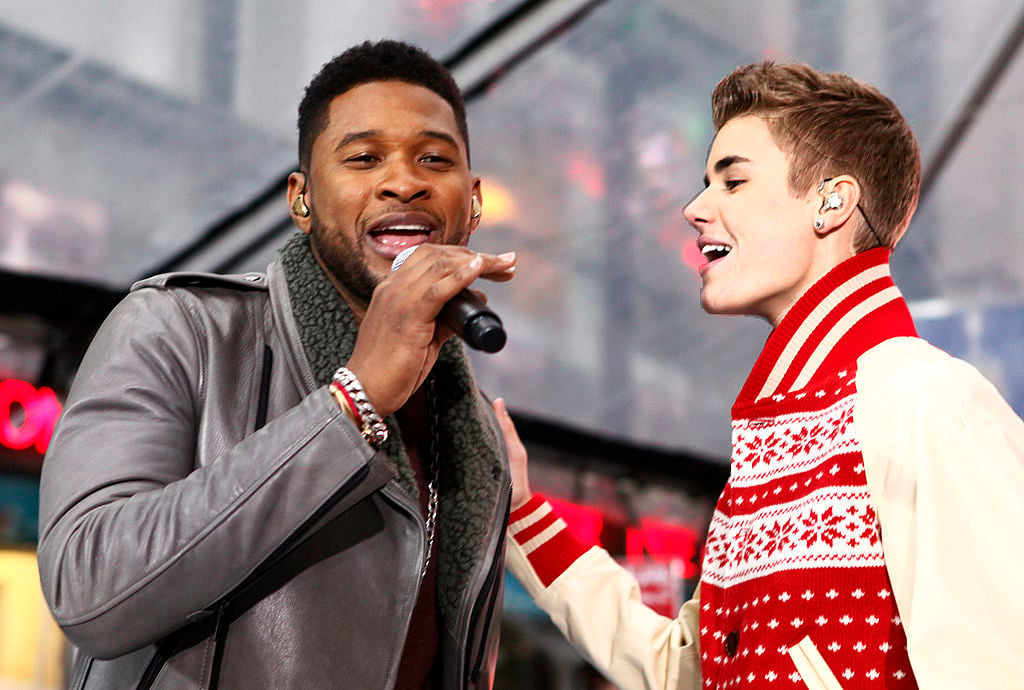 Usher had a crucial part in Justin Bieber's start in the industry
Usher was very instrumental in Bieber's early career and a large part of Bieber's success is due to him. Scooter Braun, who was then an alumnus of So So Def, found Bieber's YouTube videos. Bieber, 13 at the time, went to Atlanta with Braun to record some demos and soon met Usher.
Bieber went to sign with Raymond Braun Music Group (RBMG), a joint venture between Braun and Usher, who was able to get Bieber an audition in front of L.A. Reid. Then, RBMG entered a deal with Island Records to release Bieber's music. RBMG partly released all of Bieber's albums up through 2012's Purpose.
Usher recalled meeting Bieber for the first time in an interview on The Howard Stern Show. "I'd heard about Justin through the grapevine, because people were talking about him, and I said to him, 'Why don't you set up a meeting between me and your manager, I'd love to meet with you and do this in a formal setting, I'm late for an appointment with Jermaine Dupri and I don't want to keep him waiting, so let's do this the right way.'"
Bieber had some turbulent times
When Bieber was under fire for using the n-word and making racist jokes in the past, Usher addressed them in a post on Instagram in June 2014.
He wrote, "At my core, I am a person that supports growth and understands without judgment, that growth often comes as a result of pain and continues [sic] effort," Usher wrote in a message that was accompanied by a photo of the two artists
Later, Usher had an interview with Billboard in October 2014 when Bieber was continuing to make headlines for all of the wrong reasons. He was asked about Bieber and talked about how he was feeling about things at the moment.
"Our relationship is more man-to-man now. He's making his own decisions and it's important to show support," he said. "I can say I'm not happy with all the choices my friend has made, but I'm supportive of him. I try my hardest to give as much positive reinforcement as I can. I'll punch him in the f***ing chest when I need to, and give him a hug and kiss when I need to. It's more than just mentoring. I love the kid."
What their relationship looks like today
While it seems like they could have possibly gone through a rough patch around this time due to Bieber's antics, it is clear that the two have a very close relationship. Usher was present at Bieber's recent wedding to Hailey Baldwin and earlier this month, the two appeared on Ellen together when Bieber performed and they also played a game.
Usher even talked about Bieber in an interview with Extra earlier this year too, saying, "I've seen him go through some very very complicated times. Always happy when he decides to come back to what it is that he loves and not falter in that."
He also said that he admires Bieber for being able to "manage to make it back, to put out another album, and share yet another piece of his life."
If anything, it seems like Usher will be around to give the teen start-turned-young adult sensation some tough love.
Source: Read Full Article