Bodycam Video Shows 5-Year-Old Girl Found in Secret Closet Behind False Wall
Police say they heard noises coming from a bedroom before the discovery
A man in Arkansas has been charged with false imprisonment after police say they discovered a 5-year-old girl hidden in a secret closet within his home.
Body camera footage from the incident, which happened Thursday last week, shows the rescue in Tontitown, a city about a dozen miles east of the Oklahoma state line.
Detective Keith Lindley, of the Tontitown Police Department, told USA Today authorities arrived at the residence to serve a search warrant to a 40-year-old man. Police say they were there to assist the state Department of Human Services in obtaining custody of a 5-year-old girl.
Unable to render YouTube Video.
Cops say the suspect had initially denied the child was at the residence, and had refused to allow officers inside his home.
Eventually, while talking with an officer at the scene, the suspect is said to have then acknowledged the girl was in fact there. Once inside, cops say they heard sounds coming from one of the rooms in the home.
Body cam footage shows the suspect, wearing overalls and a hat, get down on his knees inside a bedroom closet and remove boxes and clothing pressed against one of the corners of the small space.
The suspect is then seen pulling a board nailed to a wall, revealing a hole and an even smaller space inside. A small child emerges held in the arms of the suspect.
Throughout the video the man can be heard saying, "Baby, baby" and "Hey, sweetie" as he removes the false wall.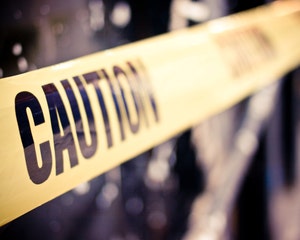 13-Year-Old Girl Waves 'Help Me' Note at CA Laundromat After Being Kidnapped in Texas: Prosecutors
"She was very emotional when she came out and pretty scared," Detective Lindley noted. "He had instructed her not to make a sound or reveal she was back there."
The incident report says the space she was hidden inside of was "six to eight feet at the widest point going down to maybe two to four feet at the other."
Detective Lindley said there were no signs the child had been harmed. She is now in the custody of the Department of Human Services.
Police say the suspect was out on bond in connection with an unrelated charge in a nearby county at the time of the incident.
The suspect was charged with first-degree child endangerment and interference with court ordered custody.
He posted bail on Monday and entered a not guilty plea. His next court appearance is scheduled for December 4.
NBC, who identified the suspect as John Thompson, said authorities have not revealed why the state was granted custody of the child. The outlet also said the Department of Human Services declined to comment on the matter.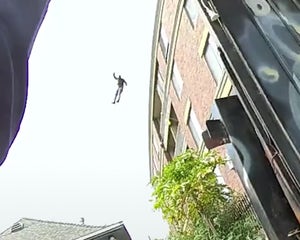 Home Invasion Suspect Seen Jumping Off Roof, Before Crashing to Ground Below
Source: Read Full Article