Andy Cohen Sweetly Reunites With Son After Recovering From Coronavirus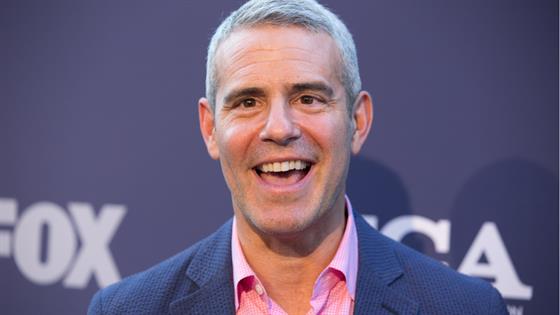 This might be Andy Cohen's most memorable reunion in history.
The 51-year-old Bravo star took to Instagram on Tuesday to share a photo of himself reuniting with his baby boy Benjamin.
"I've hosted reunions for years, but yesterday's was the best one yet," he captioned the footage.
Cohen also talked about the special moment on Tuesday's episode of Today.
"I've been sitting in my room thinking of nothing but seeing him again, watching him on the nanny cam," the Bravolebrity said. "It was a delightful reunion. I can't say it was one for a movie. I joined him playing blocks. He immediately started knocking down what I was making. But he was delighted. His face lit up and, you know, [he] touched me a lot. It was very sweet. I'm still kind of trying to social distance from his as much I can even though the doctors say it's OK."
The reunion came about 10 days after Cohen announced he tested positive for coronavirus. After receiving the diagnosis, he proceeded to isolate and separate himself from his son, which he described as the "very worst part" of his whole experience. But on Monday, Cohen revealed he's "feeling better."
"I have been quarantined from Ben for the last 12 days or so, and I'm going to get to see him right after the show," Cohen said on yesterday's episode of Radio Andy, later adding, "Two doctors said it would be safe to see him yesterday, and I freaked out on Saturday night, worried…So I was like, 'You know what? Let me just add a day to that.'"
View this post on Instagram
I've hosted reunions for years, but yesterday's was the best one yet. ♥️
A post shared by Andy Cohen (@bravoandy) on
Cohen said "it took about 10 or 11 days" for the coronavirus to "work though" his system.
"My symptoms were a fever, tightness in my chest, a cough, very very achey—a lot of aches and pains in the body—and very tired, some chills, loss of smell and appetite," he recalled on his radio program.
Now that he's feeling better, Cohen is returning to host Watch What Happens Live With Andy Cohen. He hosted his first at-home episode on Monday and did video chats with Lisa Rinna, NeNe Leakes and Jerry O'Connell. According to Bravo, Stassi Schroeder, Brittany Cartwright, Jax Taylor, John Mayer, Kyle Richards, Ramona Singer, Melissa Gorga and Joe Gorga are also set to virtually appear on the late-night show this week.
(E!, Bravo and NBC are all part of NBCUniversal).
Watch NBC News Special Report: Coronavirus Pandemic Tuesdays at 10 p.m. ET/7 p.m. PT on NBC, MSNBC and NBC News NOW. For the latest updates on the coronavirus pandemic and for tips on how to prevent the spread of COVID-19, please visit The Center for Disease Control and Prevention at https://www.cdc.gov.
Source: Read Full Article