Priyanka Chopra and Nick Jonas Have a Rule For How Much Time They Can Spend Apart
Celebrities tend to have busy schedules traveling. That could make it hard for a married couple to be in the same place.
Priyanka Chopra revealed that she has a rule with Nick Jonas about how much time they can spend apart. Find out what is the rule and more about their relationship.
Nick Jonas previously talked about finding balance with Priyanka Chopra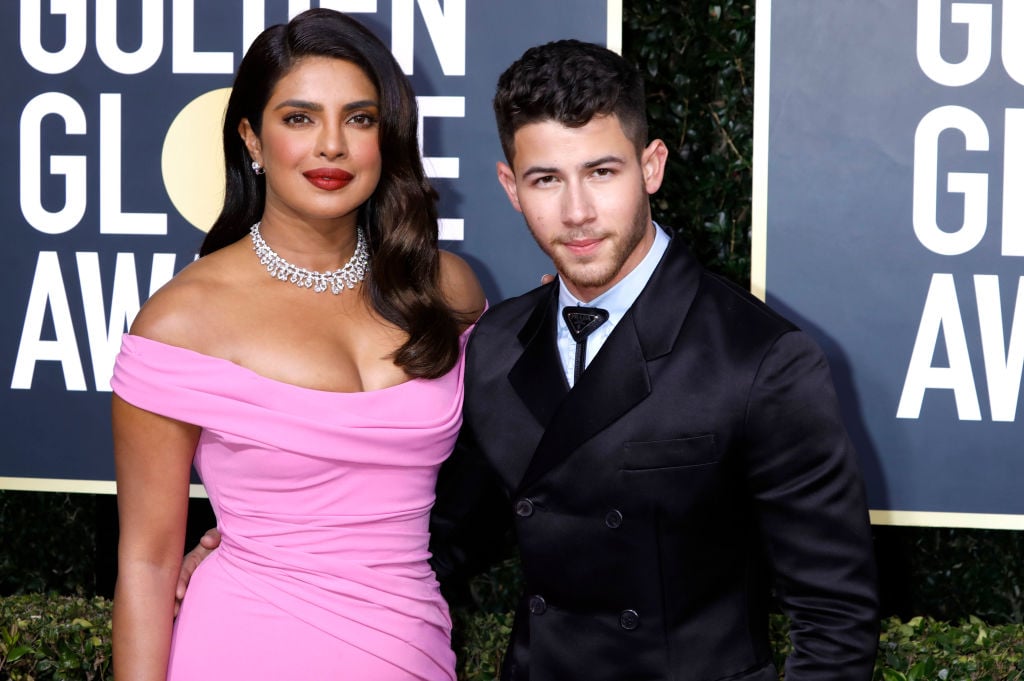 The couple is very busy with their careers. Jonas talked about trying to find a balance with Entertainment Tonight.
"She's done soon with this movie and then she'll be back for a while… It's been almost four and half months on the road, and it's been, you know, interesting," he said. "But we have an incredibly beautiful balance in our lives and kind of an understanding of our priorities. That's the most important thing." Chopra and Jonas are now spending a lot more time together.
They are currently social distancing together
Chopra and Jonas are currently spending time together social distancing to avoid the spread of coronavirus.
Chopra posted photos with a dog on Instagram and captioned it with "Staying home during this time is the safest thing to do. @ginothegerman giving mommy hugs makes it so much better.. @Cavanaughjames."
She posted another photo cuddling with the same dog and Jonas. Chopra revealed in an interview that they have a rule because of their normally busy schedules.
They can't go more than 2 or 3 weeks without seeing each other
Chopra revealed they try to make their schedules work for their relationship. There is a time limit for how much time they can spend apart.
"We don't go more than two [or] three weeks without seeing each other. That's a rule," she told Tatler. "It's too hard otherwise, and you've got to work on the relationship, to prioritize it."
She also made it known that they're not having kids any time soon because of their plans. "Right now, this year's really packed for me in terms of the work that I'm doing and the work that I've taken on," she said. "But having a family is very important to me and it always has been. It is something that I definitely want to do and I'm hoping that whenever God wills it, at the right, opportune time, it'll happen."
There are still new episodes airing of The Voice. Jonas is a coach this season and he has been given a hard time from the other coaches. Many of them have talk about him being the youngest coach this season.
Kelly Clarkson pointed out that she is a decade older than him. She is 37 years old and he is 27 years old. Jonas had a great response with "My wife is 37. It's cool."
She isn't the only coach to mention his age. Blake Shelton called him out in his welcome message. "I'm going to have to look through the rules because this is my TV show," he said. "I'm not even sure if you're old enough to be a coach on The Voice, but I'm certain that you're going to get your butt kicked, buddy."
Fans can continue watching this season of The Voice. For now, the married couple is spending time together at home.
Source: Read Full Article