Offset Accused of Cheating on Cardi B Again After He's Seen 'Hiding' His Phone As She Walked In Room
Cardi B and Offset are one of hip hop's most beloved duos. Married for nearly three years with one daughter, the rappers are a shining example of love and commitment in the modern age. But their relationship has not been without problems.
Throughout their time together, the pair has faced many obstacles — from online criticism to infidelity. The latest drama came during the week of March 22 when Offset was seen "hiding" his phone from Cardi B, prompting rumors that he might be up to no good once again.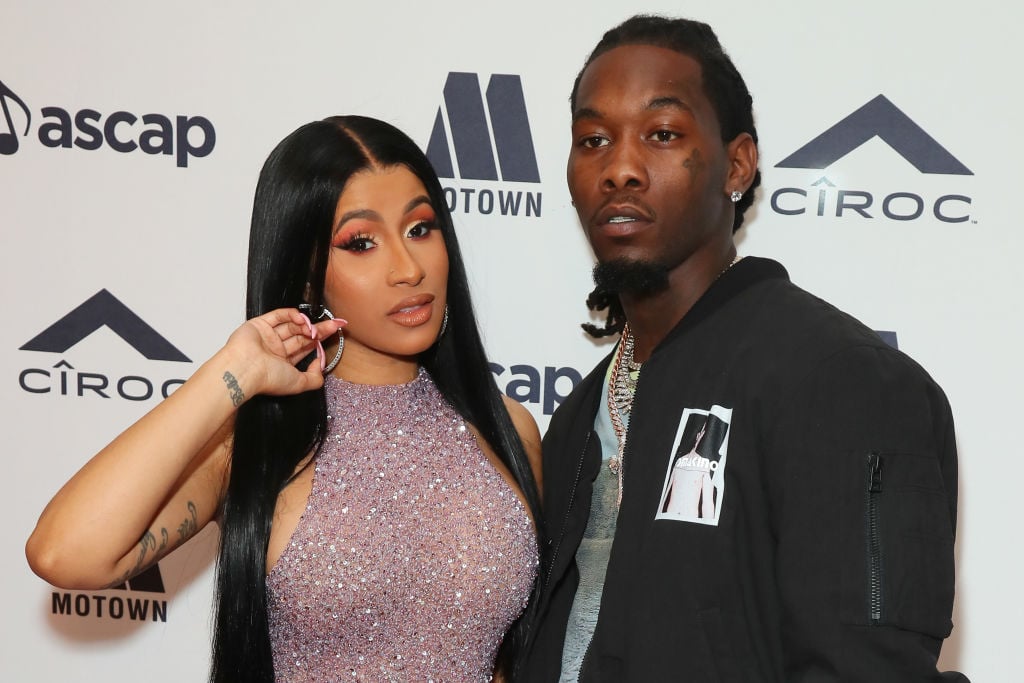 Watch the video of Offset "hiding" his phone
Offset had been recording himself playing a video game when Cardi B called for him. As she made her way to the room, Offset scrambled to put his phone in his pocket. After struggling to get the device inside, he lifted his body and placed the phone under his butt.
When she entered the room, he casually turned around and greeted the "Bodak Yellow" rapper. The pair talked for a few moments before Cardi B turned and began making her way toward the door. Once she was gone, Offset took his phone back out and began tapping on the screen as if he was texting someone.
The moment left fans suspicious and convinced that he's having an affair. They rushed to social media platforms such as Twitter and accused Offset of cheating on the "Be Careful" crooner for yet another time.
"Offset has never changed and will never change. Too bad cuz Cardi deserves better," one Twitter user declared.
Another fan echoed those sentiments, writing, "Offset ain't sh*t like Cardi b is everything…"
Others, however, defended the "Clout" rapper.
"Ppl are quick to call out offset for cheating just cause he put his [phone] away. Meantime ya'll dont even got the passcode to ur mans [phone]. And fellas, ya'll do the same sh*t around ur gf/wife. So wtf is the problem here? Let him f*ckin live," said one tweet.
Offset appeared to respond to the allegations
As the cheating rumors mounted, Offset took to his Instagram Story and seemingly pushed back on the accusations. He also criticized fans for focusing "on something negative" instead of coronavirus-related matters.
"Got folks out here dying. You wanna focus on something negative. We got too much negativity," he said. "That's why we can't get no money. Can't none of us get no money."
Offset went on to say that people were "making something out of nothing" and that he really hadn't been up to anything other than spending time with his family. 
"Don't kill the vibe, man. We vibin', man. I'm with my family, you know what I'm sayin'? We together every day. I hope you with yours everyday," he continued. "We don't need none of this negative, hateful, making something out of nothing for no reason. We good over this way."
As of writing, Cardi B has not responded to the video. But it seems likely that she will, as the Invasion of Privacy rapper usually speaks out about these kinds of things. She famously defended her husband back in December 2019 when he was accused of messaging another woman on Instagram, saying that his account had been hacked.
Offset's previous alleged affair nearly derailed their relationship
After Offset faced cheating rumors in 2018, Cardi B announced that December that she planned to file for divorce. Offset begged her to come back, posting a lengthy apology note online and even pleading for her forgiveness in public. But she didn't budge — at least at first.
They eventually reconciled in February 2019 — something that prompted major backlash from fans. But Cardi B stood by her decision.
She opened up about the reason she took Offset back in Vogue's January 2020 cover story, telling the publication that "everyone has issues" and that it was ultimately really important to her that she and Offset work through them.
"I believe in forgiveness. I prayed on it. Me and my husband, we prayed on it. We had priests come to us. And we just came to an understanding like, bro, it's really us against the world," she explained.
Cardi B also noted that they agreed when they married in September 2017 to stay together until "death do us part." But at the same time, she confessed that she may not be as forgiving if Offset slips up again.
We don't want to put words in his mouth, but we don't think Offset would underestimate Cardi and take those comments lightly. Perhaps he really was just chilling and doing nothing more than playing his game.
Read more: Fans Are Noticing Something 'Off' About Cardi B
Source: Read Full Article