Harry and Meghan Plan to Stay at Frogmore Cottage When They Attend the Queen's Jubilee
The Queen's Platinum Jubilee festivities (the big everybody-gets-a-day-off-work level celebration to mark her 70th—!!!—year on the throne) are approximately a second away at this point (the main event long weekend kicks off June 2) and they are sure to be a whole vibe.
The event is a huge deal (again: 70. FULL. YEARS. ON. THE. THRONE.) and, as such, the royal family is turning out in a big way to support Queen Elizabeth—including the Sussex fam, who have been reluctant to return to the U.K. because of security concerns since Prince Harry and Meghan Markle's royal exit in March 2020.
And, just to be clear, Harry and Meghan's RSVP for the Jubilee is official, complete with confirmation from their spokesperson, who said, "Prince Harry and Meghan, The Duke and Duchess of Sussex are excited and honored to attend The Queen's Platinum Jubilee celebrations this June with their children."
The trip will mark the first time Archie has been back in the U.K. since late 2019 and will be baby Lilibet's first visit across the pond. It's still not clear exactly what role Harry, Meghan, and their kids will play during the celebration (in April, there were reports that they had been invited to join the royal family on the balcony at Buckingham Palace, but wouldn't have a "formal role" in the festivities, but more recent reports say they won't be on the balcony, after all), but it seems that the issue of where the Sussex family will stay during the Jubilee has been settled.
According to the Daily Mail, Harry and Meghan (and Archie and Lilibet, ofc) are expected to stay at their old U.K. home, Frogmore Cottage, while they're visiting for the Platinum Jubilee. This isn't surprising, since Harry and Meghan spent $ (£2.4million, to be exact) on renovations to the Windsor residence and many expected them to keep it up as a U.K. hub following their royal exit.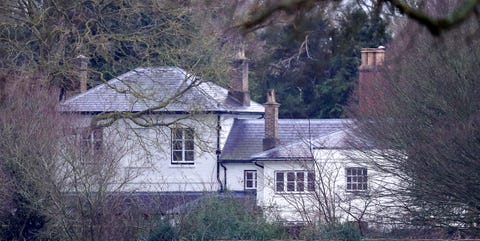 Although Frogmore Cottage is currently occupied by Princess Eugenie, her husband, Jack Brooksbank, and their one-year-old son, August, it's still officially in Harry's name (he reportedly renewed his lease on the property in February, a move that, as the Daily Mail points out, enables him to continue serving as one of the Queen's four Counsellors of State).
It doesn't sound like Eugenie and her family will be moving out to make way for the Sussexes during the trip—but, since the "cottage" reportedly has as many as 10 bedrooms, there should be plenty of room for everyone. According to the Mail report, "Eugenie will likely open up the guest bedrooms of Frogmore Cottage to accommodate the family of four during their visit."
Proof that even royals crash with relatives when they travel.
Source: Read Full Article