'Curb Your Enthusiasm': Why Cheryl Hines Takes Her Poker Game Seriously
In case you didn't know it, Curb Your Enthusiasm actress Cheryl Hines is always up for a good poker game and has been playing for over a decade.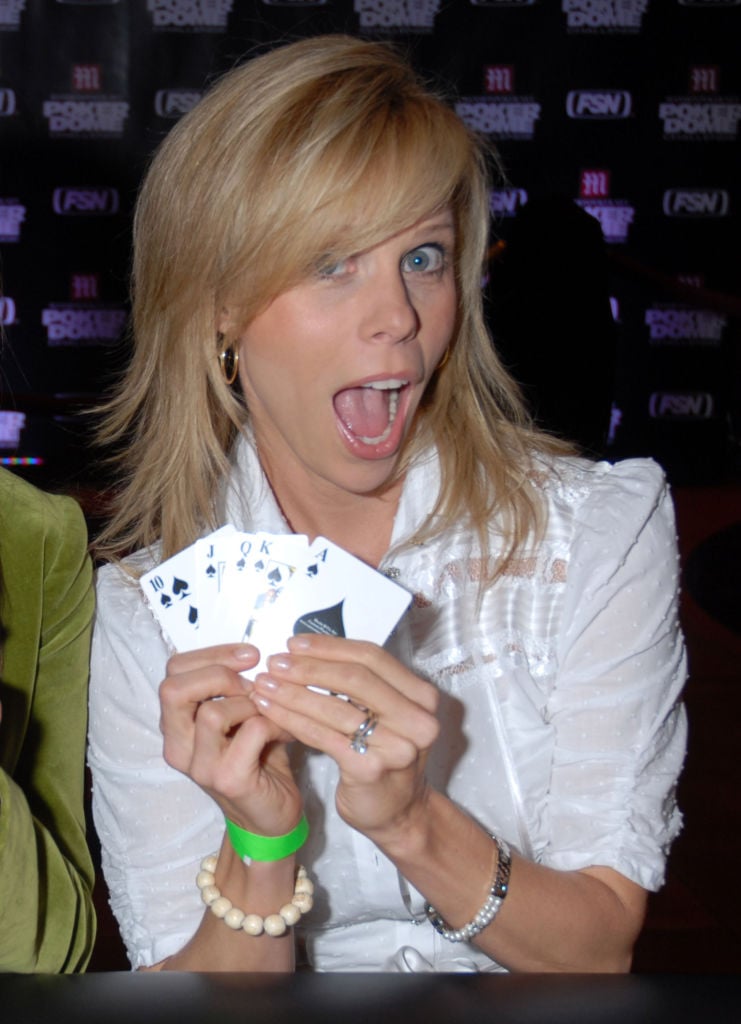 While she plays for fun, she's also in it to win it for a good reason.
She's been playing for a while now
How she fell into poker playing is a quirky story, as one would imagine for someone who is on a show as funny as HBO's Curb Your Enthusiasm, on which she has co-starred with Larry David since the show started in 2000.
But back to poker. The actress started playing the game out of boredom when she was pregnant and discovered she was good at it.
"Truth be told," she explained to America's Card Room in 2018, "when I was pregnant I didn't have much to do and I wasn't feeling that great, so I learned to play poker. I was playing a lot of video poker then because there was not much else to do. Once I had my baby I could actually go play with real people. It was very exciting. Once you start playing poker you meet other people with similar interests and you connect with them. You find your poker friends."
She plays for a reason that hits close to home
Nearly every tournament that Hines has played in has been to fund raise for families affected by cerebral palsy, as well as to raise understanding for the neurological disorder. Hines' nephew was born with cerebral palsy and has been in a wheelchair from birth.
She chatted about her beloved nephew in a 2007 conversation with Brain&Life. It was because of her love for him that she became involved with United Cerebral Palsy, an organization dedicated to supporting the CP community. She now serves on the Board of Trustees of United Cerebral Palsy and plays poker to raise money for the cause.
". . . My brother and sister-in-law gave birth to their second son, a beautiful 2-pound baby named Michael. Because he was born prematurely, he really had to fight for his life, and later, when he was about a year-and-a-half old, he was diagnosed with cerebral palsy."
"Many people don't realize that CP isn't a disease, nor is it progressive, degenerative, or communicable. Many people with CP have no mental impairment and go on to pursue high-skill careers as adults."
Hines isn't one to brag, but. . .
The actress, who is married to Robert F. Kennedy, Jr., continues to participate in, and host, celebrity charity tournaments with the likes of Anthony Anderson, Montel Williams, and Jennifer Tilly at the felt table. And her game seems to only keep getting better.
She continued in her conversation with Brain&Life to chat about her wicked poker game and about The Grand, a 2007 movie she appeared in with Woody Harrelson, Seinfeld's Jason Alexander and Everybody Loves Raymond's Ray Romano. The movie is an improvisational comedy with actors playing characters taking part in an actual poker tournament.
"I'm a real poker fiend!! I'd like to think I'm good at poker. In Grand, Woody Harrelson, Jason Alexander, Ray Romano, Judy Greer, and I play a real poker tournament as fictional characters. I have a tendency to talk a lot at the poker table, which throws people off because they spend a lot of time trying to read me. I tend to win more than I lose, which is good!!
Read more: 'Curb Your Enthusiasm': Cheryl Hines' Net Worth and Why She Thinks Each Season of the Show Will Be Her Last
Source: Read Full Article