Cardi B Addresses Coronavirus Rumors Following Her Hospitalization
Fans have been worried about Cardi B ever since April 1 when she tweeted that she was being hospitalized. Since the news came amid the coronavirus outbreak, they naturally assumed that she had been infected by the disease. But Cardi B has said that that's not the case. Apparently, she had been dealing with an unrelated problem that forced her to seek medical attention.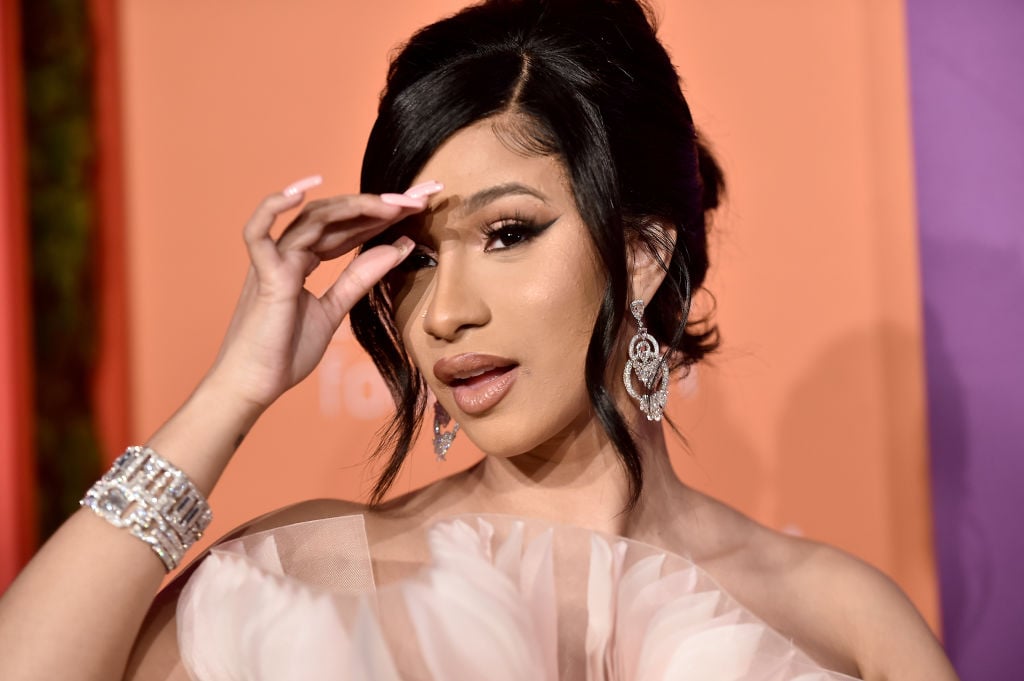 Cardi B's tweet about her hospitalization
In the now-deleted message, which was captured by The Daily Mail, Cardi B wrote that she had gone to the emergency room after feeling sick for four days.
The message prompted widespread concerns that she had been exposed to the coronavirus, which has affected more than 300,000 Americans and caused over 8,000 deaths in the United States (via The New York Times). Following a day of silence on the matter, Cardi B took to Instagram Live on April 2 to talk about her illness.
She assured fans that she did not have the coronavirus. She said she'd actually been dealing with some weird stomach bug and even thought that she might be pregnant again.
"I've been very f*cking sick these past five days… and no, it's not coronavirus-related. I just have really bad stomach issues… I started throwing up… I took a pregnancy test 'cause a b*tch never f*cking knows. But it's definitely not that," she continued.
The "Bodak Yellow" rapper, who shares daughter Kulture with Offset, said she did not eat "for like four days straight," at which point she decided to go find out what was going on.
Cardi B did not share the exact reason behind the ailment but said she believes it might have to do with her diet, as she's been eating more takeout while stuck in Los Angeles amid the pandemic.
How Cardi B is doing now
Cardi B noted in the video that she was going back to see her doctor on April 3, but it's unclear if she shared an update with her fans.
However, she has been active on social media and seems to be in better spirits. Most recently, she shared a clip on Instagram of her playing with Kulture and a joke on Twitter related to the coronavirus quarantine.
Meanwhile, her coronavirus song is still causing a huge stir on social media. In case you missed it, Cardi B admitted in a March 10 Instagram post that she was scared of the disease. A producer who goes by the name DJ iMarkkeyz took parts of the rant and remixed them into a song that has landed on multiple charts on Apple Music.
Cardi B and DJ iMarkkeyz later pledged to donate the proceeds from the song after a Twitter user urged them to help those in need amid the pandemic.
"That was my goal," DJ iMarkkeyz said while Cardi B added: "YES! THATS WHAT WE GOING TO DO ! Keep in mind you don't get your money right away …but even months from now there would be families with financial issues for getting laid off due to the virus. We will Donate!"
She has also donated from her own pocket. On April 3, TMZ reported that she had given 20,000 meal supplement drinks to medical professionals in New York City so they can stay energized and fed while fighting on the front lines. She joined a bunch of other celebrities who have given back amid the outbreak, including Ciara, Taylor Swift, and Elton John.
Read more: Offset Accused of Cheating on Cardi B Again After He's Seen 'Hiding' His Phone As She Walked In Room
Source: Read Full Article