The 40 Best Neck Tattoo Ideas for Men in 2021
The ultimate tattoo commitment is a neck tattoo. Ink on your neck is wildly visible—and, at times, stigmatized. But no one can deny that a neck tattoo is undeniably badass.
Yet heavily inked people know neck tattoos aren't something to take lightly. Not only are they painful, but neck tattoos are often only done when you've run out of sufficient space on your arms, legs, and torso. In fact, many tattoo artists refuse to tattoo highly visible spots like the hands and neck until a person has little to no space left.
That being said, the neck is probably not the location for your first tattoo. But if you are highly tattooed and want some neck ink, these 40 neck tattoo ideas may help you narrow down your ink choices.
1. Butterfly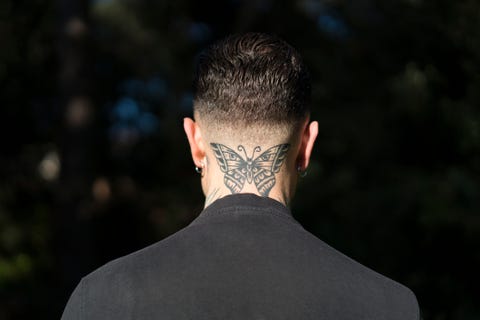 Butterflies symbolize going through it but still coming out flying high. But the insect with detailed wings can represent transformation or a new beginning. Remember metamorphosis from middle school science?
2. Birth Year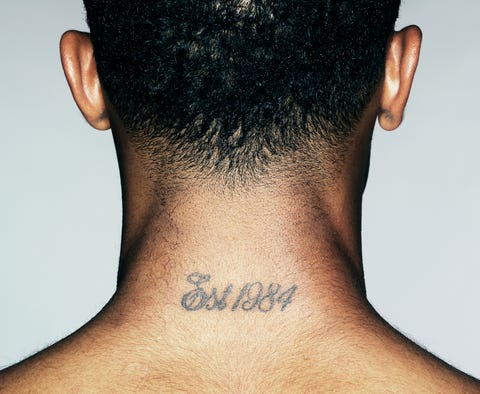 Rep the year you were born by inking your birth year. But be warned: The simple tattoo will keep you honest about your age for the rest of your life.
3. Geometric Shapes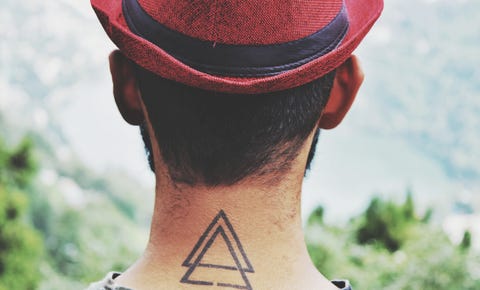 Get a little artsy with an abstract geometric tattoo. Triangles are especially popular for unapologetic hipster vibes.
4. Lion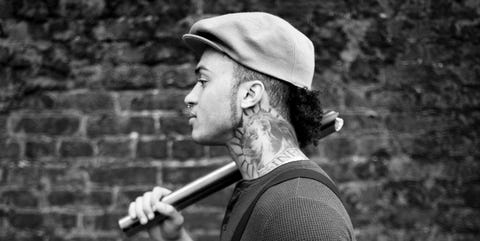 Lions symbolize courage, power, royalty, and downright badassery. Consider this ink masculinity to the max.
5. Initials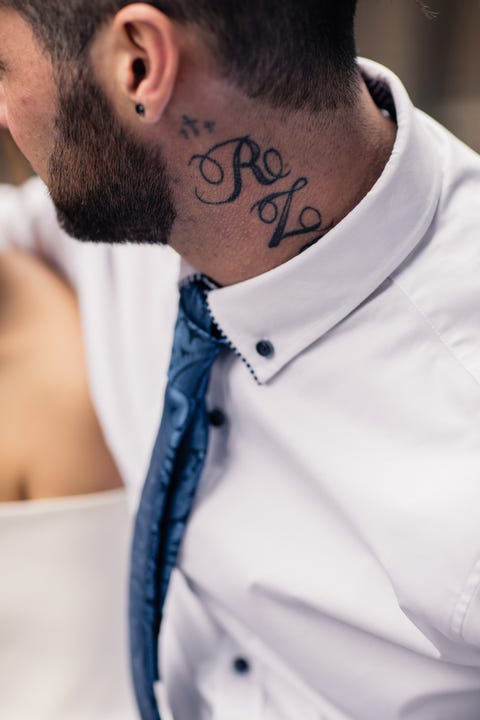 Sure, you should never get a name tattooed. But getting the initials of your mom, dad, or kids is a little more forgiving. After all, you're stuck with them.
6. Flying Birds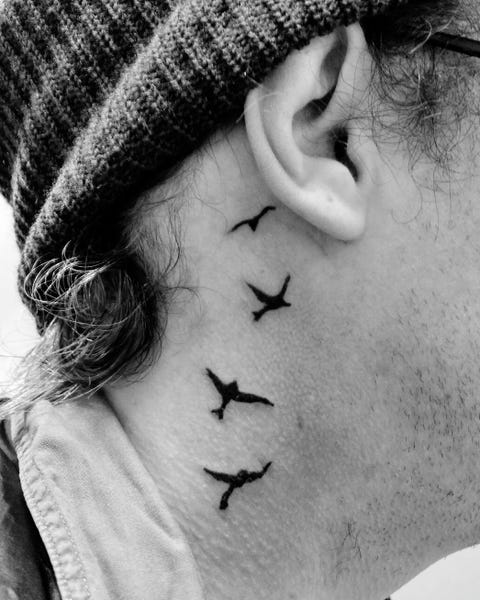 Soar high with a tattoo of flying birds, which can symbolize joy, optimism, and freedom.
7. Eye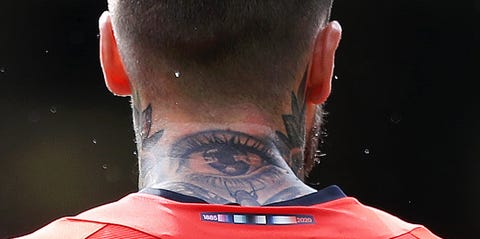 If two eyes aren't enough, why not ink a third? Eye tattoos can symbolize honesty, intuition, and wisdom.
8. Anchor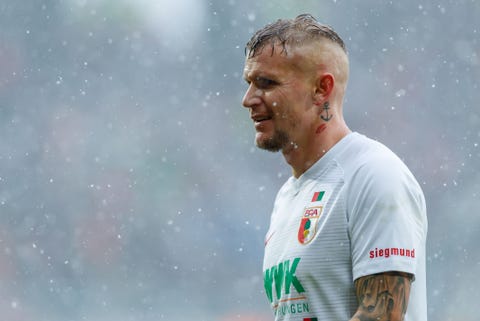 In the West, nautical imagery is forever associated with tattooing, thanks to sailors who first brought the art form to the Western world from Polynesian and indigenous Asian communities. That said, nautical-themed anchors will never go out of style.
9. Religious motif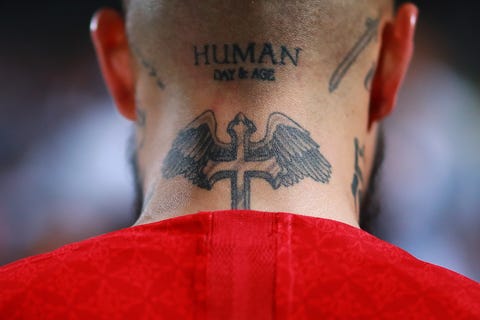 For those who praise a higher power, religious tattoos are a top pick. From depictions of gods to symbols like crosses, religious tattoos keep your faith close.
10. Eagle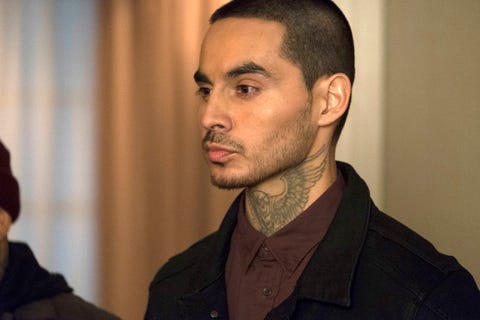 Eagles symbolize strength, wisdom, and soaring above it all. Eagles are also obviously associated with patriotism, if that's your thing. Plus, those wings make for a killer neck tattoo.
11. Roman Numerals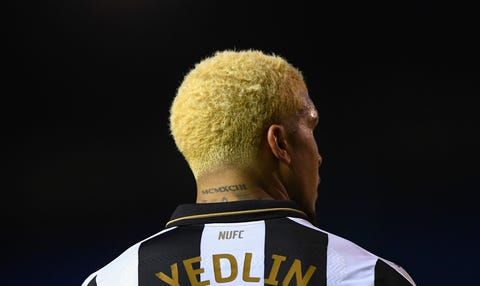 Instead of tattooing a numeric birthdate or year on your body, transfer that number into Roman numerals for more aesthetically-pleasing ink. With line-based figures that provide angles and structure, Roman numerals lend themselves well to tattooing.
12. Swallows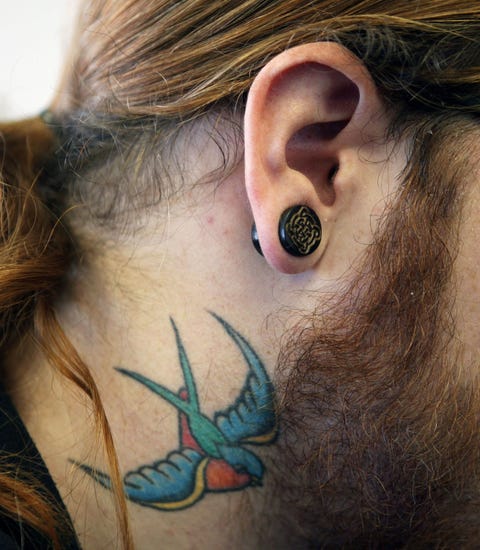 Another staple of traditional and nautical tattooing, swallows were popularized among well-traveled sailors. Nowadays, truly anyone can get a swallow tattoo—and it will never go out of style.
13. Lucky Number 13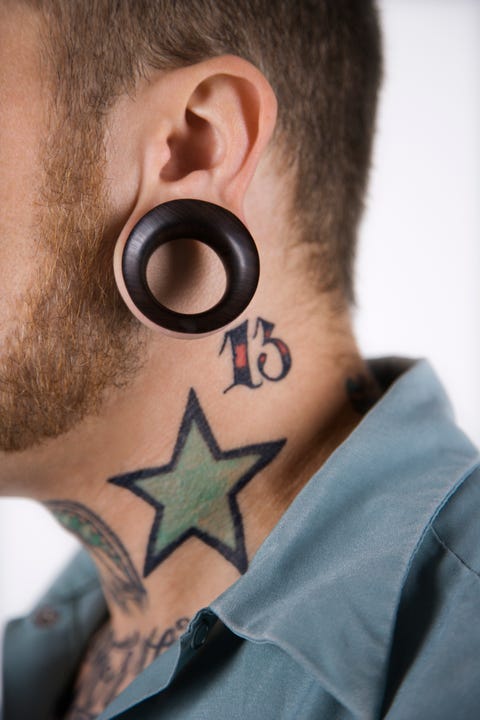 On Friday the 13, many tattoo shops hawk flash sheets low-cost "13" tattoos. If 13 is truly your lucky number or means something to you, the date is the perfect opportunity to get the "unlucky" ink.
14. Creepy Motifs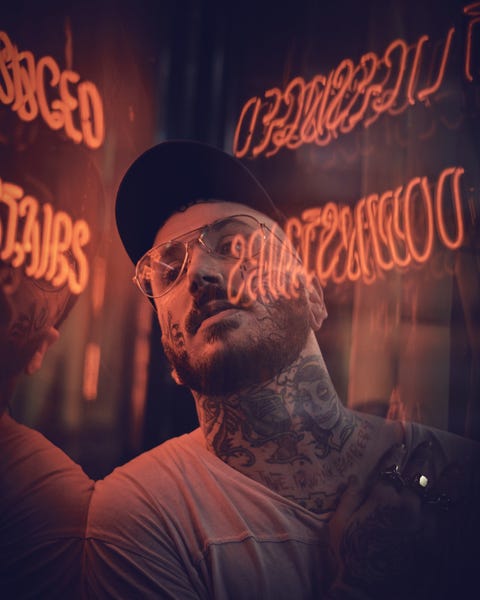 Are you a certified creep? Display it proudly with ink warning others of your sinister, spooky ways.
15. Portrait Work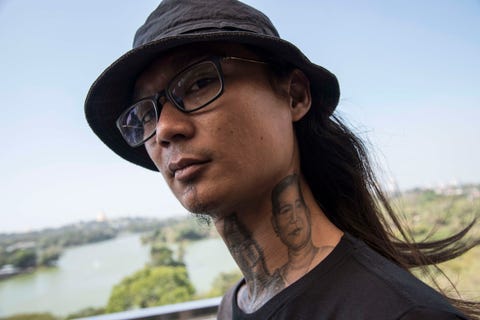 When done right, portrait tattoos are plain stunning. Just make sure you go to a portrait artist, for the love of god.
16. Rose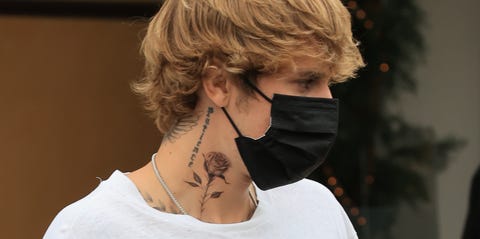 A rose tattoo is a classic for a reason. The subject lends itself to almost any style of tattooing, providing depth and interest with layered petals. You really can't go wrong.
17. Skull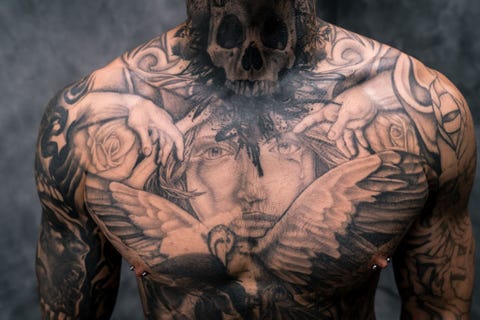 Both a morbid reminder of mortality and a badass piece of ink, a skull tat spans tattooing styles, fitting any guy's tattoo collection.
18. Blackwork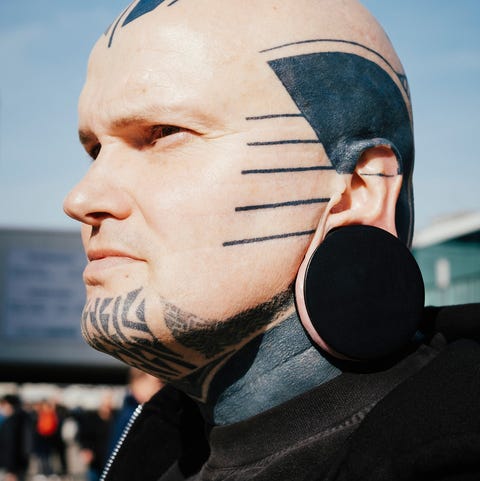 If you have existing neck tattoos you want to cover, blackwork may be for you. This style of tattooing covers often large areas of skin with saturated black ink. It's an eye-catching way to cover a bad decision, but also a tattoo style that takes talent to master.
19. Patternwork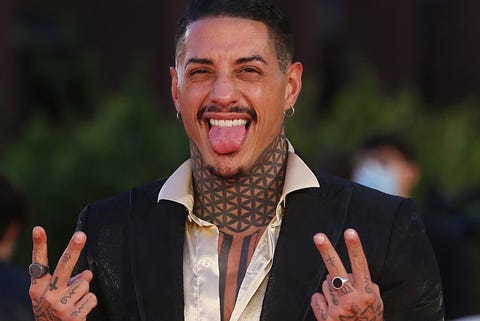 Not every tattoo needs to depict a tangible object. Some ink can just be eye-catching (and plain cool) patternwork.
20. Letterwork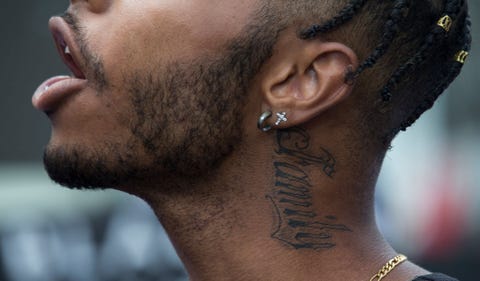 Go to an artist specializing in lettering if you want a single word (or two… or three… ) in bold type. Lettering work is an art, and a way to really make a word stand out.
21. Animal Skull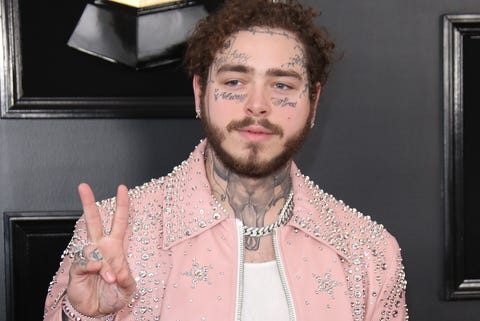 Celebrate the natural world (and death, but whatever) with an animal skull tattoo. From bird to steer skulls, animal skulls are aesthetically pleasing and edgy. And extremely dead.
22. Some Quirky Ink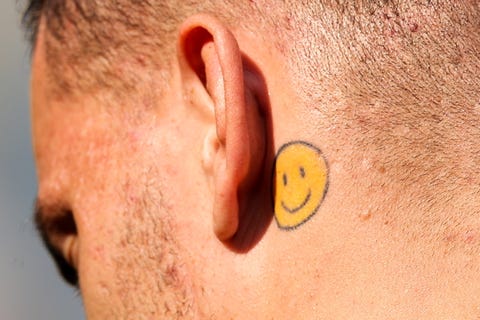 Come on, a bright yellow smiley face tattoo is pretty funny. Even if the happy face isn't for you, equally quirky designs show you don't take yourself too seriously.
23. Something Sweet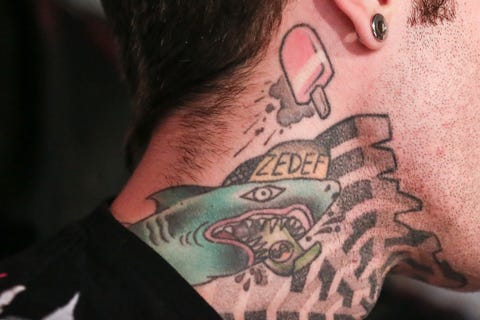 If you have a sweet tooth, proudly display it with ink of a frozen pop, a chocolate bar or a layered piece of cake. Yum.
24. Hand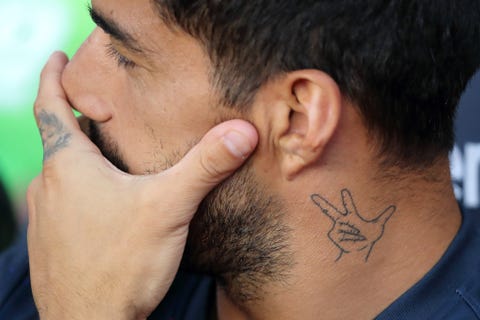 Whether it's a peace sign or a sign of the horns, a tattoo of a hand is a simple way to illustrate a message—like a love of world peace or hair metal.
25. Your Biggest Passion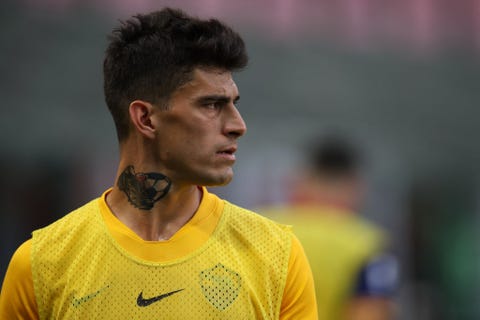 Take a page from this soccer player and tattoo your biggest passion on your neck. If you like it that much, why not ink it in a prominent spot?
26. Angel Wings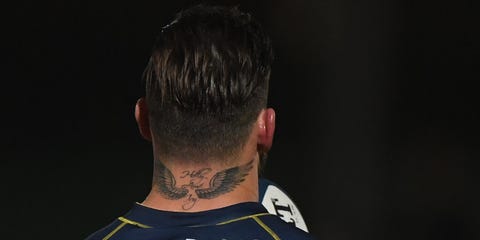 Angel wings are a gorgeous way to memorialize a lost love one—and especially powerful in black and gray.
27. Heart and Dagger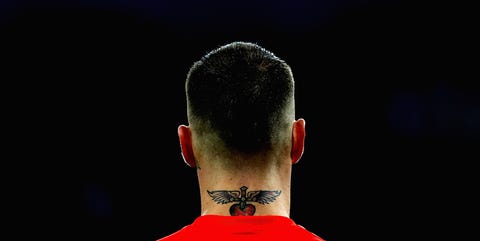 A heart and a dagger? Now that's some harsh juxtaposition. The traditional tattoo symbolizes the good and bad—and can be traced back centuries to early Christian imagery.
28. Sacred Heart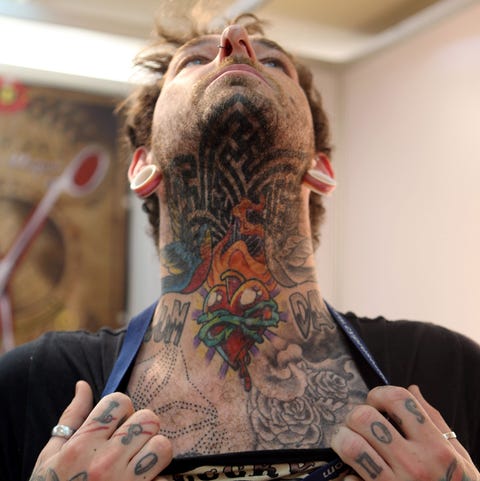 Like the heart and dagger, a burning heart is some intense imagery. Called a sacred heart, this popular traditional tattoo with roots in Christianity represents devotion.
29. Wolf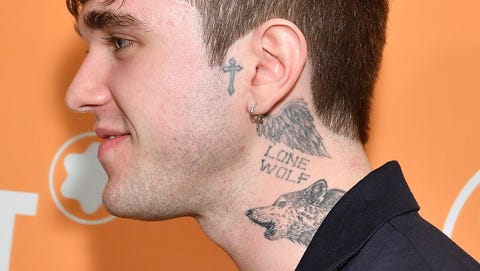 Wolves are fierce, powerful animals representing leadership and alpha-like mentality. So not only do they look cool, but they represent some seriously enviable qualities.
30. A Single Word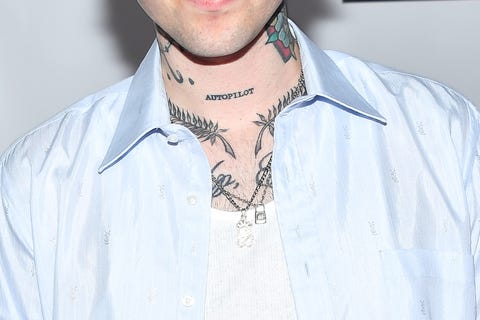 Pick a word, any word—and tattoo it forever in simple type. It's simple, yet powerful.
31. Collage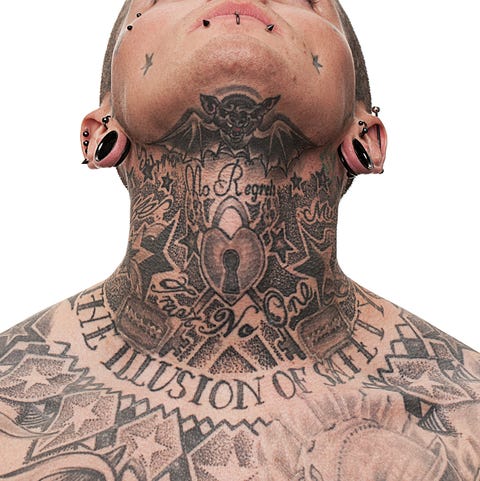 Got a few tattoo ideas you just can't pick between? Collage them together into a giant neck piece attached by patterned filler. Call it a badass turtleneck.
32. Compass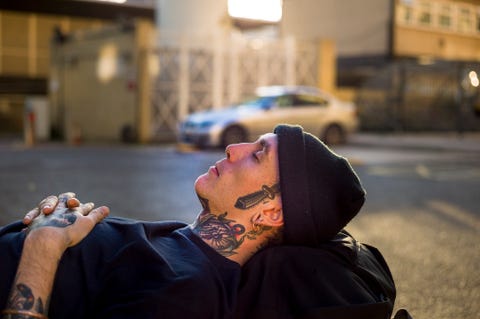 Another staple of nautical imagery, compass tattoos symbolizes guidance and finding your way even in the most treacherous circumstances. Now that's deep.
33. Crown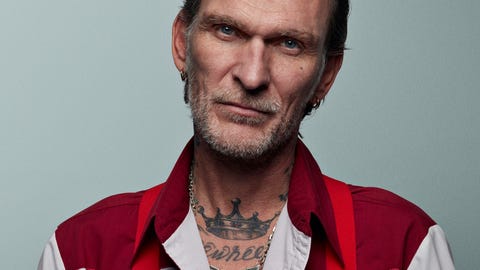 Celebrate your King status with a crown tattoo representing strength, self-assurance, and power.
34. Spider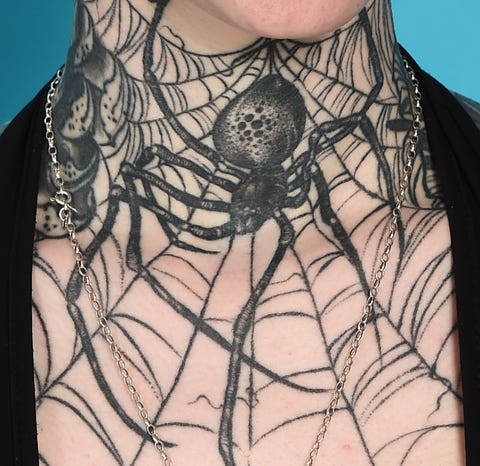 While spider and web tattoos previously represented time in prison, the creepy, crawly arachnids now have a better rep, symbolizing creativity, illusion, and creation. Oh, and creepiness.
35. Bat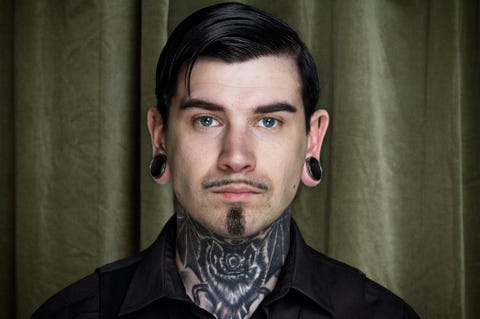 Bats are a gloriously goth tattoo staple—and putting it front-and-center on your neck is a symbol of mystery and darkness. Being goth never looked so good.
36. Feathers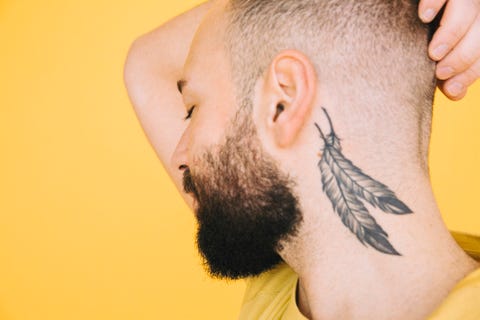 Loose feathers are said to symbolize luck and freedom—and most people can use more of both.
37. Gems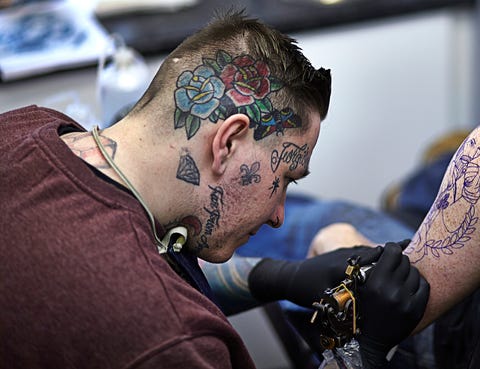 Want to attract riches and wealth? Inking a gem is an easy way to recognize money as the motive.
38. Owl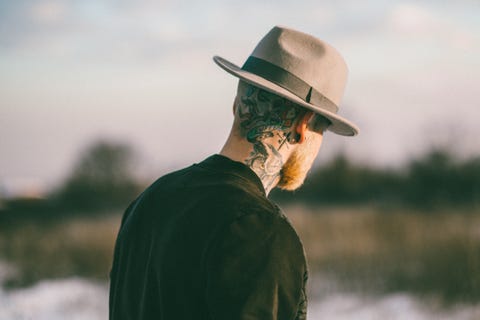 Owls have long symbolized wisdom, maturity and mystery. While these are all qualities worth embodying, let's be honest—owls just look freakin' cool.
39. Devil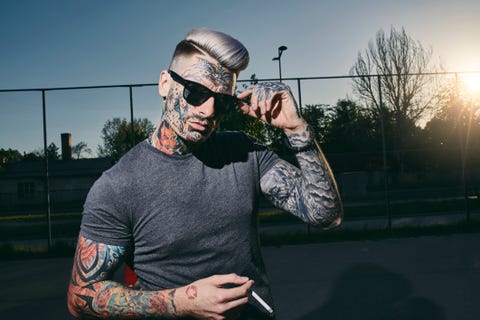 Constantly dancing with the devil? Immortalize the ongoing tango with danger through your neck ink, bad boy.
40. Handwriting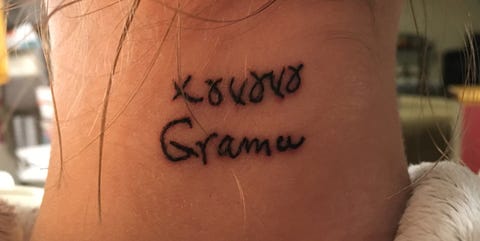 Immortalize the handwriting of a loved one with a sentimental tattoo. Just maybe don't show grandma….
Source: Read Full Article